Fleet Maull will speak about and sign his new book, Radical Responsibility: How to Move Beyond Blame, Fearlessly Live Your Highest Purpose, and Become an Unstoppable Force for Good, on Tuesday, July 9th at 7:30pm.
About the Book:
What is the greatest obstacle to your success and happiness? "It's the belief," teaches Fleet Maull, "that your current situation, whatever it is, has the power to determine your future." In Radical Responsibility, Maull invites readers to experience the life-changing journey from victim to co-creator. If you would like to take your life to the next level and truly optimize your health, relationships, career, and other life pursuits, Radical Responsibility will give you the expert guidance to realize your full potential.
Vouchers to attend are $5 and are good for $5 off the author's featured book or a purchase the day of the event. Vouchers can be purchased now at the store, over the phone, or at the door. Vouchers are available online HERE. Readers Guild Members can reserve seats for any in-store event.
Event date:
Tuesday, July 9, 2019 - 7:30pm

$22.95
ISBN: 9781683641698
Availability: On Our Shelves Now. Click on the title to see details.
Published: Sounds True - May 14th, 2019
---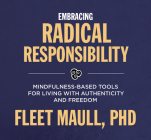 $79.95
ISBN: 9781683642220
Availability: Backordered
Published: Sounds True - October 1st, 2018
---