Dave Showalter will speak about and sign his new book, Living River: The Promise of the Mighty Colorado, on Wednesday, June 7th at 6:30pm, at Boulder Bookstore. Tickets for this event are $5 (plus a small processing fee) and are available on Eventbrite HERE or by clicking the button below.
About the Book:
With powerful visual storytelling, Living River illustrates how we can create a resilient watershed if we change our relationship with water. Exploring the endangered Colorado River from source to sea, award-winning photographer Dave Showalter provides a deeper understanding of how countless numbers of creatures and 40 million humans depend upon its water and how the futures of all are inextricably linked to the health of the river.
Starting at the headwaters in the Continental Divide, Showalter covers the wide range of issues facing the river and highlights places that demonstrate the land's resilience, offering hope for the future. Throughout, he weaves in the stories of riverkeepers like Cynthia Wilson, who works to ensure universal access to clean water for her Din community; Holly Richter, a conservation leader on the San Pedro River; and Tom Koerner, manager of the Seedskadee National Wildlife Refuge.
Living River forms the foundation for a robust impact campaign that will inform and influence stakeholders in the development of a new river compact, one that embraces new technology, conserves and restores our western rivers for wildlife and recreation, and recalibrates water consumption within the Colorado River system.
---
IMPORTANT TICKETING AND EVENT INFORMATION
*Tickets are $5 (plus a small processing fee).
*A coupon good for $5 off a copy of Living River, or a purchase on the day of the event is included with your ticket. You will receive this coupon at the event.
*Please note: our events are held on the second floor. To request a reasonable accommodation or discuss your needs, contact BBSVirtualevents@gmail.com.
*After purchasing your tickets, send an email to bbsvirtualevents@gmail.com if you're a Readers Guild member and you'd like to reserve a seat at this event. Seats must be reserved before 5pm on the day of the event.
Event date:
Wednesday, June 7, 2023 - 6:30pm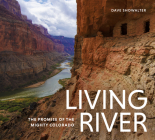 $39.95

ISBN: 9781680516326
Availability: On Our Shelves Now. Click on the title to see details.
Published: Mountaineers Books - March 22nd, 2023
---