Before You Knew My Name: A Novel (Paperback)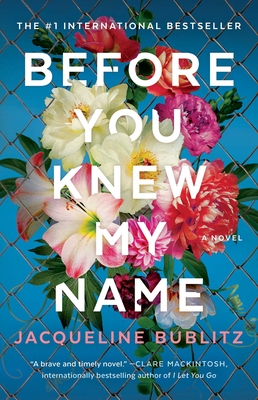 $17.99

NOT on our shelves - Usually Ships in 1-5 Days
Description
---
Winner of Crime Debut and Readers' Choice Awards—Sisters in Crime
Editors' Choice/Staff Pick by The New York Times Book Review

"A brave and timely novel." —Clare Mackintosh, internationally bestselling author of Hostage

This is not just another novel about a dead girl. Two women—one alive, one dead—are brought together in the dark underbelly of New York City to solve a tragic murder.

When she arrived in New York on her eighteenth birthday carrying nothing but $600 cash and a stolen camera, Alice Lee was looking for a fresh start. Now, just one month later, she is the city's latest Jane Doe. She may be dead but that doesn't mean her story is over.

Meanwhile, Ruby Jones is also trying to reinvent herself. After travelling halfway around the world, she's lonelier than ever in the Big Apple. Until she stumbles upon a woman's body by the Hudson River, and suddenly finds herself unbreakably tied to the unknown dead woman.

Alice is sure Ruby is the key to solving the mystery of her short life and tragic death. Ruby just wants to forget what she saw…but she can't seem to stop thinking about the young woman she found. If she keeps looking, can she give this unidentified Jane Doe the ending and closure she deserves?

A "heartbreaking, beautiful, and hugely important novel" (Rosie Walsh, New York Times bestselling author), Before You Knew My Name doesn't just wonder whodunnit—it also asks who was she? And what did she leave behind?
About the Author
---
Jacqueline Bublitz is a writer, feminist, and arachnophobe who lives between Melbourne, Australia, and her hometown on the west coast of New Zealand's North Island. She wrote her debut novel Before You Knew My Name after spending a summer in New York, where she hung around morgues and the dark corners of city parks (and the human psyche) far too often. She is now working on her second novel, where she continues to explore the grand themes of love, loss, and connection. Find out more at JacquelineBublitz.com.
Praise For…
---
"BEFORE YOU KNEW MY NAME crackles with life and energy. It is a tour de force of imagination, empathy and righteous fury."
— The New York Times Book Review

"A brave and timely novel which will fuel the debate on women's rights to walk safely through our streets. I raced through the pages, anxious for resolution, yet at the same time not wanting this beautiful writing to finish."
— Clare Mackintosh, author of I LET YOU GO

"A furiously feminist breath of fresh air."
— Paste

"Unflinching and heartbreaking; powerful and empowering, the story of Alice and Ruby is our story, the story of every woman, everywhere. I know I'll be thinking about it — and them — for a very long time to come."
— Carole Johnstone, award-winning author of MIRRORLAND

"BEFORE YOU KNEW MY NAME will make you cry, make you angry, make you think. Jacqueline Bublitz pushes the boundaries of crime fiction in all the right ways. It's a deeply moving, deeply original, story that, hands down, is one of the best novels of the year."
— Alex Finlay, author of THE NIGHT SHIFT

"The most wonderful book. Unusual, beautiful, feminist, gripping, deserves to win prizes. I loved it so much."
— Marian Keyes, internationally bestselling author of GROWN UPS

"A really remarkable book - so fresh and original. I've never read anything quite like this."
— Laura Barnett, author of The VERSIONS OF US

"I fell head over heels in love with this heartbreaking, beautiful and hugely important novel. Jacqueline Bublitz's prose is luminous and the up-all-night, just-one-more-page plot is brilliantly clever and original. Everyone should read this book."
— Rosie Walsh, author of THE MAN WHO DIDN'T CALL

"An astounding debut novel that every woman will feel in their bones. At last, a whodunnit, where the victim is the front and centre of the story. Beautifully written, real, feminist and properly haunting, it deserves all the awards."
— Lizzy Dent, author of THE SUMMER JOB

"An unputdownable debut - striking, moving, gripping throughout and so sharp on the things that unite us."
— Elizabeth Kay, author of SEVEN LIES