The Long Way Back: A Novel (Paperback)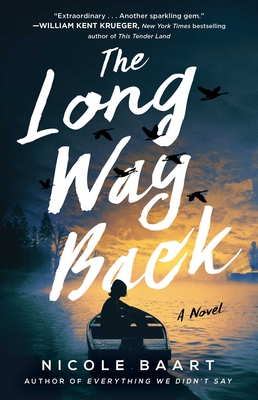 $17.99

NOT on our shelves - Usually Ships in 1-5 Days
Description
---
When an Instagram-famous teenager mysteriously disappears, her mother grapples with the revelation of dark secrets in this twisty, atmospheric thriller—from the author of the "poignant, riveting" (Wendy Walker, author of Don't Look for Me) Everything We Didn't Say.

Mother and daughter Charlie and Eva never sought social media fame, but when a stunning photo of Eva went viral, fame found them. Now, after more than two years documenting life on the road in their vintage Airstream trailer, the duo has temporarily settled on the North Shore of Lake Superior. Eva is happily finishing her senior year of high school and applying to college, but Charlie longs for the adventures they left behind.

When Eva goes missing less than a week before her graduation, it's Charlie who is immediately suspected of foul play—not just by their fans, but also by the police and the FBI. As a fight about one more road trip comes to light, and the truth about their relationship is questioned, Charlie realizes the rosy facade they portrayed online hid a complicated and potentially dangerous reality. Now, to clear her name and find out what has happened to her daughter, she'll have to confront her own role in Eva's disappearance—and whether she knows her daughter at all.
About the Author
---
Nicole Baart is the author of eleven novels, including Everything We Didn't Say and The Long Way Back. The cofounder of a nonprofit and mother of five, she lives in Iowa with her family. Learn more at NicoleBaart.com.
Praise For…
---
"You won't be able to predict the journey Baart is taking you on when you start the novel, and she will keep you guessing where she is headed until the very end."
—Glamour

"The Long Way Back is a beautifully written, atmospheric, page-turner, that brilliantly explores the complexities of the mother-daughter bone, finding it as fraught as it is profound."
—Kimberly McCreight, New York Times bestselling author of A Good Marriage and Friends Like These

"For any parent, the most frightening nightmare is the disappearance of their child. In Nicole Baart's extraordinary novel The Long Way Back, not only is a mother tortured by this terrible circumstance, but she also becomes a primary suspect. Baart writes with a poet's eye for language and a storyteller's gift for suspense. Readers already won over by Nicole Baart's fine body of work will discover another sparkling gem, and new readers couldn't find a better place to begin."
—William Kent Krueger, New York Times bestselling author of This Tender Land

"Riveting and timely, The Long Way Back is not just an unforgettable mother-daughter thriller, it's a deeply felt love story about the natural world. In beautiful prose, Nicole Baart has penned a novel that will stick with me for a very long time."
—Jo Piazza, bestselling author of We Are Not Like Them

"In Nicole Baart's gripping new thriller The Long Way Back, a mother creates a perfect Instagram life for herself and her teenage daughter, traveling the country while chronicling their adventures for legions of fans. But despite doing everything right, never posting her daughter's face and never identifying their location until they've moved on, things go horribly wrong. Timely and provocative, Baart's marvelously relatable characters and gifted storytelling take the reader on a wild and unexpected ride. I loved this book!"
—Karen Dionne, #1 internationally bestselling author of The Marsh King's Daughter and The Wicked Sister

"Nicole Baart is the queen of the family thriller! This tender, propulsive story reveals a heart-twisting understanding of human nature and the risks we take to get what we want. Timely and thought-provoking, this "turn the pages as fast as you can" cautionary tale about the danger of the spotlight and the steep price of privacy will surprise you and haunt you, even after the gasp-worthy conclusion. Baart crafts her mother-daughter suspense not only with soul and passion and stomach-churning tension—but also a deep and important wisdom. Book clubs rejoice--this is the novel for you!"
—Hank Phillippi Ryan, USA Today bestselling author

"In The Long Way Back, Baart achieves the nearly impossible feat—writing that is tense and propulsive as well as poetically rendered. A beautiful story about the fraught relationships between parents and their children, the tension between growing up and learning the difficult truths about the dangers of independence, The Long Way Back will have you turning pages late into the night and holding your breath until the final, emotional scenes. I absolutely loved it."
—Danielle Girard, USA Today bestselling author