Awakening Astrology: Five Key Planetary Energies for Personal Transformation (Paperback)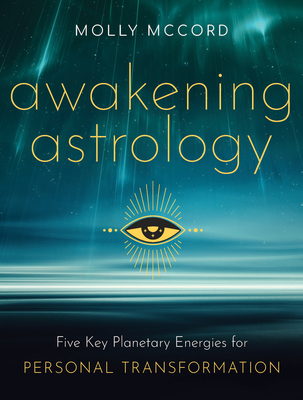 $24.99

NOT on our shelves - Usually Ships in 1-5 Days
Description
---
Do you feel overwhelmed by the intricate details and particulars within Western astrology? Are you unsure where to focus first so that you can access the most relevant and useful information that will assist you in achieving your deepest dreams and desires?

In Awakening Astrology, professional astrologer and intuitive business coach Molly McCord offers a clear, accessible guide for those seeking an introduction to astrology that is simultaneously easy to grasp yet still full of powerful information. Every natal astrology chart has wisdom to offer, but the array of planets, houses, and signs can be bewildering and often overwhelming. Awakening Astrology cuts through this confusion by taking a deeper look at just the five key planets—Sun, Moon, Mercury, Venus, and Mars—that are most fundamentally connected to your core personality energies.

With the information in these pages, you can unlock a deeper and more meaningful relationship to your true self, as well as a more profound understanding of your personal needs, mental processes, and any ongoing areas of self-development. Even those who already possess experience with astrology will benefit from this profound look at these five planets and their potential for expansion of self-awareness.

These five planetary energies influence us every day of our lives—in our productivity, how we present ourselves to the world, interact with others, think and communicate, share and connect. Now, with McCord's guidance, you can tap into the incredible potential of astrology to inform your journey towards a life of purpose and authenticity.
About the Author
---
Molly McCord is a professional astrologer, intuitive business coach, and modern consciousness teacher with 25 years of business development and leadership experience. She has created numerous online programs, hosted a successful weekly podcast, and worked with hundreds of clients around the world to guide them in knowing themselves more fully. Learn more at consciousintuitiveastrology.com.