Musical Chairs: A Bow by Blow Adventure (Hardcover)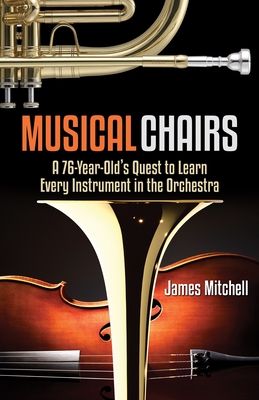 This item is not available for sale on this site.
Description
---
Have you ever wanted to learn how to play an instrument or anything that requires a new skill? 76-year-old James Mitchell, a non-musician, set out to do just that--but not one instrument, the entire orchestra.
Musical Chairs
is a bow by blow adventure that follows Mitchell on his quest to perform excerpts from the classical repertory with just twelve lessons and practice on each instrument. His more than three-year journey provides a platform allowing his imagination to take him to unexpected places. As he delves into music history, immersing himself in the works of Bach, Beethoven, Mozart, and other great composers, Mitchell does battle with the orchestra in this breezy, often humorous account that informs as well as delights. He weaves in tales of Tarzan and Jane, doing surgery on a double bass, falling in love with a cello, and spy games between the Stradavari and Amati families in 17th-century Tuscany, to name a few.
Musical Chairs
is a multi-dimensional book that will appeal to any reader with a healthy curiosity, a sense of adventure, and a goal itching to be achieved.
About the Author
---
James Mitchell was born in New York City, which nurtured his love of classical music from an early age. Professing little or no talent, however, he left the playing of music mostly to others until the writing of Musical Chairs. For the 67 years that elapsed between music lessons, James was an actor, a sales manager for a ski company, president of a national advertising agency, a cowboy and wilderness outfitter, an educator, and co-founder of an NGO aiding women in Afghanistan. James is working on two new books, and otherwise occupies his time going to concerts, playing music, tennis, cycling, and riding and driving horses. He lives in the country north of Denver, Colorado, with his wife, some zebra finches, an old cat, and a few equines. He is immensely proud of his two grown offspring and has one very young grandson.