180° South: Conquerors of the Useless (Paperback)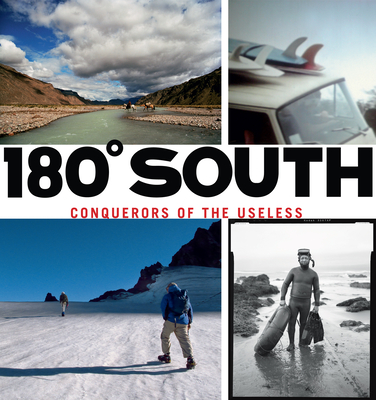 $24.95
Email or call for price.
Description
---
180 South takes readers behind the scenes of the film, 180 South, made by Chris Malloy, to learn more about the people who made the original overland journey to Patagonia in 1968, and the repeat journey over ocean and land 40 years later. The book includes stories of events and experiences that inspired Chris Malloy, Yvon Chouinard, and Doug Tompkins to choose paths committed to saving what's left of the wild world. Open it anywhere and enjoy the photographs by the world's leading surf and climbing photographers Jeff Johnson, Jimmy Chin, Scotty Soen, and Danny Moder.
About the Author
---
Yvon Chouinard, a noted alpinist and environmentalist, is the founder and owner of Patagonia, Inc., which" Fortune" has called "the coolest company on the planet." He is also the co-founder with Craig Mathews of 1% For The Planet and the author of "Let My People Go Surfing."

Doug Tompkins is a mountain climber, Deep Ecologist, and forward-thinking businessman. Tompkins was the founder of The North Face and co-owner of the ESPRIT clothing company.

Chris Malloy is a professional surfer, cowboy, and visionary filmmaker. He directed the well-respected films "Shelter," "Thicker than Water," "A Brokedown Melody," and "One Track Mind." Chris has brought his eye and style to Patagonia clothing, helping them brand and realize their surf line and retail surf stores. An advocate for sustainable living and for surfing's roots, Chris still opts to paddle into some of the largest surf imaginable.

Jeff Johnson is one of the best surf photographers in the business.