Astrology Reading Cards: Your Personal Guidance from the Stars (Cards)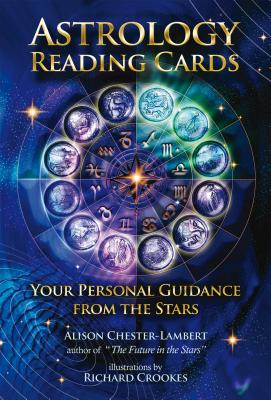 Description
---
Self-help astrological advice has never been easier to attain than with this spirit guiding card deck. Featuring three sets of cards--the Zodiac Signs, the Planets and the Houses--advice seekers can select a card from each set and then use the book of guidelines to interpret the answer. There are cards for each of the zodiac signs with the characteristics of each sign, cards for the planets and their characteristics or symbolism, and cards for each of the houses in astrology with images on them that they represent. Featuring stunning artwork from a master artist, these cards take all the complexity out of astrological readings, and places the power firmly into the hands of the reader who hopes to gain insight into their future.
About the Author
---
Alison Chester-Lambert, MA, studied Greek literature and mythology at the University of Wales where she graduated with a master's degree with distinction in cultural astronomy and astrology. As an astrologer, she is a regular contributor to the UK's Daily Mail Online, has written columns for many leading astrology and spiritual magazines, and has BBC and American TV credits including The Daily Politics Show on BBC2. She lives in Tamworth, England.

Richard Crookes has more than 30 years' experience as a freelance artist, illustrator, and calligrapher. He has worked on many card decks, including the award-winning Angels of Atlantis Oracle Cards, The Angel and Gemstone Guardians Cards and, with Alison Chester-Lambert, MA Astrology Reading Cards. He lives in Bangkok, Thailand.
Praise For…
---
"[Chester-Lambert's] work is in a class of its own, not only insightful, but witty and very readable. She is a thoroughly entertaining and gifted writer."
— Jacqui Hagen, features editor, OVL Magazine

"With illustrations done by Richard Crookes it expresses an other dimensional blend of landscapes, symbols, and an explosion of colors giving a unique sightseeing experience for your eyes."
— Lisa Owens, The Angel Directory on The Angels of Atlantis Card Set

"What an innovative approach to traditional oracle cards! Having always been fascinated with astrology, this new deck not only makes it easy to understand the planets, signs and houses, but provides a new method of divination to find answers buried deep within your unconscious mind. I love them."
— Katy Evans, editor of Soul & Spirit Magazine

"These cards seem to hold an energy of enchantment which somehow expands as they get to know you."
— Sandra Marrison, Paradigm Shift

"A visual and tactile feast, this new card and book set is stunning whilst being fun and insightful. And you don't have to know anything about astrology to us or enjoy it. In fact, it can teach you astrology while you use it."
— New Spirit Journal