Moonology Calendar 2024 (Calendar)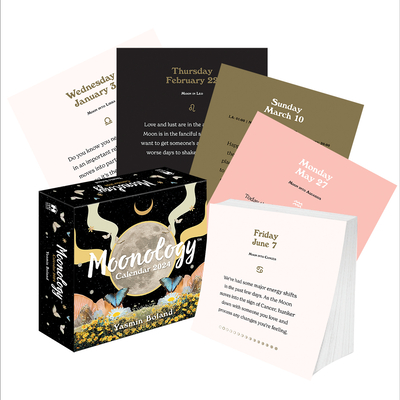 Description
---
Unlock the magical powers of the Moon to manifest an incredible life, with daily affirmations and inspiring messages in this debut calendar from #1 bestselling Moonology™ author Yasmin Boland.

Get in tune with the Moon in 2024 with this stunning daily calendar, designed to help you live a life full of positivity, power and joy.

Each magical message has been lovingly written by Yasmin Boland to inspire and uplift you every day. You'll discover how to work with the lunar energies on each day, plus how to attune to each New and Full Moon to supercharge your manifesting powers.

With guidance on setting intentions, making New Moon wishes and more, the Moonology™ 2024 Calendar will help you to tap into the highest possible energy, prepare to achieve your goals and make this a year full of positivity and success!
About the Author
---
Yasmin Boland is a best-selling astrology and Moonology writer and author, and her horoscopes, astrology, and New Age columns are read by millions of people each week. She writes for Red, Closer, and Good Health, and is the author of the international bestsellers Moonology, Moonology Oracle Cards, MoonologyManifestation Oracle, The Mercury Retrograde Book and Astrology Made Easy.