Lonely Planet USA Planning Map 1 (Sheet map, folded)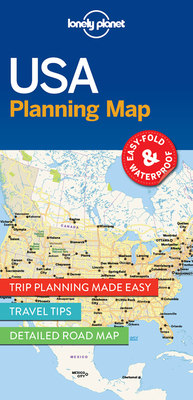 Description
---
From Lonely Planet, the world's leading travel guide publisher
Durable and waterproof, with a handy slipcase and an easy-fold format, Lonely Planet USA Planning Mapis your conveniently-sized passport to traveling with ease. Get more from your map and your trip with images and information about top country attractions, itinerary suggestions, a transport guide, planning information, themed lists and practical travel tips. With this easy-to-use, full colour navigation tool in your back pocket, you can truly get to the heart of the USA, so begin your journey now!
Durable and waterproof
Easy-fold format and convenient size
Handy slipcase
Full colour and easy-to-use
Before-you-go info
Beautiful imagery
Tailored itineraries
Can't-miss regional highlights
Detailed town index
Transport planner
Themed lists
Covers New York City, Washington, DC, Boston, New England, Walt Disney World, Miami, The Everglades, New Orleans, Nashville, Blue Ridge Parkway, Las Vegas, Grand Canyon National Park, Austin & San Antonio, Los Angeles, Pacific Coast Highways, San Francisco, Seattle, Chicago, Yellowstone National Park, Rocky Mountains, Route 66, Great Lakes
Check out Lonely Planet USA, our most comprehensive guidebook to the country, covering the top sights and most authentic off-beat experiences. Or check out Lonely Planet Best of USA, a handy-sized guide focused on the can't-miss experiences for a quick trip.
About Lonely Planet: Since 1973, Lonely Planet has become the world's leading travel media company with guidebooks to every destination, an award-winning website, mobile and digital travel products, and a dedicated traveller community. Lonely Planet covers must-see spots but also enables curious travellers to get off beaten paths to understand more of the culture of the places in which they find themselves. The world awaits!
Lonely Planet guides have won the TripAdvisor Traveler's Choice Award in 2012, 2013, 2014, 2015, and 2016.
'Lonely Planet. It's on everyone's bookshelves, it's in every traveller's hands. It's on mobile phones. It's on the Internet. It's everywhere, and it's telling entire generations of people how to travel the world.' - Fairfax Media
'Lonely Planet guides are, quite simply, like no other.' - New York Times