Why We Need to Be Wild: One Woman's Quest for Ancient Human Answers to 21st Century Problems (Hardcover)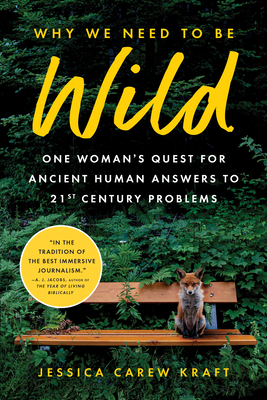 $27.99

NOT on our shelves - Usually Ships in 1-5 Days
Description
---
"In the tradition of the best immersive journalism." –A.J. Jacobs, author of The Year of Living Biblically
A bold examination of how Paleolithic wisdom could solve our 21st century problems
Jessica Carew Kraft, an urban wife and mom of two, was firmly rooted in the modern world, complete with a high-powered career in tech and the sneaking suspicion that her lifestyle was preventing her and her family from truly thriving. Determined to find a better way, Jessica quit her job and set out to learn about "rewilding" from people who reject the comforts and convenience of civilization by using ancient tools and skills to survive. Along the way, she learned how to turn sticks into fire, stones into axes, and bones into tools for harvesting wild food—and found an entire community walking the path back from our technology-focused, anxiety-ridden way of life to a simpler, more human experience.
Weaving deep research and reportage with her own personal journey, Jessica tells the remarkable story of the potential benefits rewilding has for us and our planet, and questions what it truly means to be a human in today's world. For readers of A Hunter-Gatherer's Guide to the 21st Century and Hunt, Gather, Parent, Why We Need to Be Wild is a thought-provoking, unforgettable narrative that illuminates how we survived in the past, how we live now, and how each of us can choose to thrive in the years ahead. 
"Kraft shows us how we could all benefit from being a little less civilized." —Tiffany Shlain, author of 24/6: The Power of Unplugging One Day a Week
Praise For…
---
"This book is in the tradition of the best immersive journalism, in which the author tries on a lifestyle that offers unforeseen benefits, amidst difficulty, and then discovers that she can't go back to the way she used to live. It will get many of us thinking about whether we also need to immerse ourselves in more Stone Age living to thrive in the coming era of massive change." —
A.J. Jacobs, author of The Year of Living Biblically
"An engrossing, illuminating, and personal journey into how humans have become so disconnected from nature, and how to rewild ourselves back to health." —
James Nestor, author of Breath and Deep
"This is the life-changing magic of going wild—Kraft shows us how we could all benefit from being a little less civilized." —
Tiffany Shlain, acclaimed filmmaker, Webby Awards founder and author of 24/6: The Power of Unplugging One Day A Week
"In this book, Kraft not only engages with a range of bad-ass skills for living more wildly, but she shows us how learning and passing along these skills can be a path towards a thriving future. We could all be a little more wild, not just with long beards and the occasional camp-fire feast, but with a deeper engagement with nature and a better understanding of Stone Age life." —
Adam Conover, comedian and host of TruTV's "Adam Ruins Everything"
"Sometimes, the best wisdom lies behind us, in our distant past. Jessica Carew Kraft has focused her quest in that direction, seeking to learn venerable, largely forgotten skills for simple living in sync with nature. In this time of increasing anxiety about the health of our only planet, it is both urgent and invigorating to read about her adventures on this path. That Jessica is a mother—in addition to being a very good writer—adds depth to this essential, resonant topic." —
Mollie Katzen, author of The Moosewood Cookbook
"We face enormous challenges and choices as civilization itself seems to be displaying the beginning of its end days. Jessica, an accomplished professional and mother of two, faced up to this reality and has given us a remarkable piece of writing about her odyssey, what she decided and what she has learned. This is a gift for all of us to take to heart." —
John Zerzan, author of A People's History of Civilization and Future Primitive
"How should we live? Global change has transformed our existential angst into a matter of physical survival, a realm in which few of us feel competent or prepared. Luckily, we have Jessica Carew Kraft ahead of us, questing to the heart of nature and bringing back practical information about how we might thrive in the Anthropocene. In a narrative full of joy and empowerment, she posits a plausible future for our children and ourselves." —
Mary Ellen Hannibal, author of Citizen Scientist: Searching for Heroes and Hope in an Age of Extinction, a best book of 2016, San Francisco Chronicle
"Kraft's is a quest that's never been needed more in our age of overstimulation, this moment in time that leaves us feeling stressed out and empty. Modern hunting and gathering reminds us that the oldest tools, ideas, and indeed crafts are not only timeless but never-more vital to fill the void of the digital age." —
Larry Smith, founding editor SMITH Magazine and originator of the Six-Word Memoir
"In the nick of time comes a manuscript that urges us to get off our computers and out of our houses and head into the backcountry. Like Kraft, I've ditched the magical thinking of tech and capitalism as solutions to our dwindling happiness and our looming climate catastrophe, and I love Kraft's concept that the best answers may lie in 'rewilding' and our more primitive selves. I would pick up this book in a heartbeat." —
Caroline Paul, author of The Gutsy Girl and Fighting Fire
"A compassionate, reasonable, curious, fascinating exploration of the concepts and practices of rediscovering our place in the natural world. Clear-eyed, honest, and with an open heart, Jessica Carew Kraft takes us on a journey filled with excitement, connection, contradiction, gore, and tenderness—and it's a wild ride!" —
Sy Montgomery, National Book Award finalist and New York Times bestselling author
"Jessica Carew Kraft has gone boldly down a difficult path that diverges from the frantic and often absurd mainstream life of this wobbling nation. Things are coming undone fast, and we'll have to figure out a lot of other ways of doing what needs to be done. Some of these are ancient ways imprinted in our Homo sapiens DNA. It's a helluva learning curve, and Jessica's journey on it is a great job of social map-making for the rest of us." —
James Howard Kunstler, author of the World Made by Hand novels and The Long Emergency
"A brave book by a courageous human. With intellectual and emotional honesty, Jessica Carew Kraft offers a first-hand account of the badass pioneers of personal rewilding. She reports their various visions of the future with a good journalist's skeptical eye and an idealist's imaginative hope. In the vernacular of her movement, Jessica is one happy hominid." —
Richard Louv, author of Our Wild Calling and Last Child in the Woods
"Kraft has discovered through the stories of rewilders that love, strength, and happiness are the birthright given to each of us by Mother Nature; if we only get back to her, she will hold us, so we feel safe and capable. The skills she details in this book add to what millions are discovering about tapping into their innate physiology to live wild and free." —
Wim Hof, the Iceman
"
Why We Need to Be Wild
shows how connecting deeply to nature provides the inspiration to make major life changes and start correcting the damages we all suffer living in high-tech civilization. In the world of wilderness skills, historically dominated by men, Kraft also champions the important role of women and mothers." —
Doniga Markegard, Author of Dawn Again and Wolf Girl
"The ecosystem-devouring megamachine called technoindustrial civilization, with its economics of endless growth, is primed to implode in the not-too-distant future, likely in the lifetimes of our children. Jessica Kraft shows us the psychological, material, logistical journeys needed to prepare for ushering in something totally different: a societal order based on abundance in simplicity, an economics of sufficiency, and the beginning of true sustainability. " —
Christopher Ketcham, author of This Land: How Cowboys, Capitalism, and Corruption Are Ruining the American West
"Jessica Kraft shows us the psychological, material, logistical journeys needed to prepare for ushering in something totally different: a societal order based on abundance in simplicity, an economics of sufficiency, and the beginning of true sustainability. " —
Christopher Ketcham, author of This Land: How Cowboys, Capitalism, and Corruption Are Ruining the American West
"Kraft's revealing debut chronicles her evolution from urbanite working mom to foraging woodswoman… Readers who've questioned the pitfalls of tech-based living will be intrigued." — Publishers Weekly
"A great read for naturalists, those interesting in rewilding, survivalists, and anyone searching for a different way of life." — Booklist