Observe, Collect, Draw!: A Visual Journal (Diary)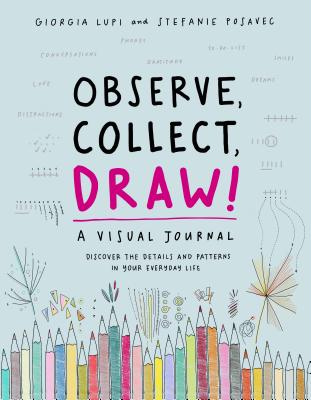 List Price: $19.95
Our Price: $10.00
(Save: $9.95 50%)
Description
---
Discover the patterns in your everyday life in a guided visual journal. Harness your skills of observation.
Activities teach you how to document the world through colors, lines, shapes, design, and data.
Fuel your creativity.
Through the lens of data, encourage yourself to notice more closely the unfolding processes of both the world and yourself.
Observe, Collect, Draw!
functions as a mini-course in information design, as accessible to beginners as it is engaging to seasoned info designers.
This journal is for you if you are interested in
Self improvement
Curious about personal data collection
Looking to expand your creative outlets
Experimenting with a different way of drawing
About the Author
---
Stefanie Posavec is a data designer whose work focuses on non-traditional representations of data derived from language, literature or scientific topics. Often using a hand-crafted approach, her work has been exhibited at, among others, MoMA in New York, CCBB in Rio de Janerio, the Science Gallery in Dublin and the V&A in London. In 2013 she was Facebook's first data-artist-in-residence at their Menlo Park campus.
Praise For…
---
"Giorgia Lupi and Stefanie Posavec show readers how we can collect all kinds of data about ourselves and our surroundings and turn it into interesting, intricate drawings (and essentially works of art)."


"From your clothing to your swearing, purchases, and complaints, draw your daily patterns in the form of infographics. A visual journal that helps you visualize the data of your life, this fun activity book helps you to explore different infographic formats and offers helpful drawing tips."
- HOW

"This visual journal by data extraordinaire Giorgia Lupi will give you lots of projects to both get your creative juices flowing and help you become more self-aware."
- Fast Company