Search for Books
ABA Mobile Menu
Landscape as Spirit: Creating a Contemplative Garden (Paperback)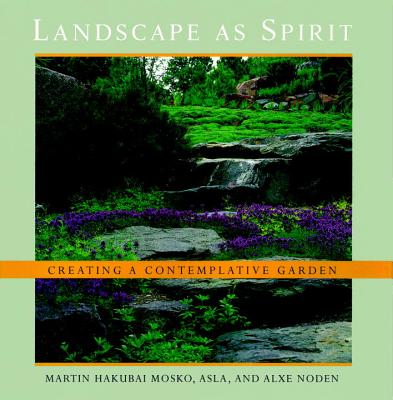 Description
---
Explore the Eastern philosophy-inspired garden design principles that inform the work of landscape architect Martin Mosko.

This book is a resource for those who want to create a contemplative garden or to better understand what it is to follow a contemplative path. Mosko's work incorporates principles of Oriental and Western garden design to make bold and original statements in his landscapes. Mosko explains how to deploy the materials of the garden so that their arrangement reflects the contemplative mind. The chief paradigm he uses is the mandala, a symbolic picture of the ideal world used in some form in many of the world's cultures. Rocks, streams, plants, paths, and structures of the garden each take their place in the mandala as one of its five elements: Earth, Water, Fire, Air, and Space. The means to produce a balance of these elements is the mind conditioned by meditation and a clear understanding of its own nature. Inner harmony is expressed as outer beauty.
    
Mosko's approach to landscaping transforms space into spirit, infused with magic. It can be used to create anything from a small courtyard to a country estate, in any environment from the city to the suburbs. After explaining theory and method, the book leads us into five of Mosko's gardens, each alive with the energy and excitement he brings to his designs. Although located in different parts of the country and created in different styles, each garden is a reflection of the mind of clarity and calm.
About the Author
---
MARTIN HAKUBAI MOSKO, ASLA (American Society of Landscape Architecture), founded the landscape design and construction firm Marpa & Associates in 1974. He studied painting and Sanskrit at Yale and has apprenticed with Japanese master gardeners. Mosko is a Zen monk and heir to the lineage of Tenzan Keibun Otokawa Roshi. In addition to his responsibilities at Marpa, he is abbot of Hakubai Temple and travels the country, lecturing on garden design and meditation.

ALXE NODEN was educated at Cornell and Boston University School of Law and studied Tibetan Buddhism with Tara Tulku Rinpoche. An accomplished writer and photographer, she has been with Marpa since 1993.
Praise For…
---
"This is the only garden book that I have read from cover to cover. Alxe's and Martin's fine writing and stunning photographs teach us that the beautifully designed garden has a magical intangible quality that helps us transcend our busy modern lives and connects us to the universe."—Herb Schaal, Principal Landscape Architect, AECOM

"Drawing on a combination of Occidental and Oriental garden wisdom, Martin perceives the garden as a mandala and creates meditative spaces where the spirit can play."—Gert Groening, Professor of Urban Horticulture and Landscape Architecture, Berlin University of the Arts

"Anyone lucky enough to have visited one of Martin Mosko's landscapes is almost overwhelmed with the boldness and beauty there. And yet, there is something more: Mosko is a magician whose creations are spaces of great meditative power and innocence. His gardens reassure us that nature and mankind are, perhaps, really one after all."—Panayoti Keliadis, Senior Curator, Denver Botanic Gardens