Australia East Map (National Geographic Adventure Map #3502) (Folded)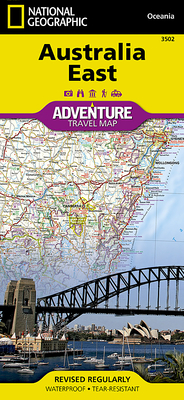 Other Books in Series
This is book number 3502 in the National Geographic Adventure Map series.
Description
---
- Waterproof - Tear-Resistant - Travel Map
National Geographic's Australia East Adventure Map provides global travelers with the perfect combination of function and perspective. Designed to meet the needs of adventure travelers with its detailed, accurate information, this map includes the location of cities and towns with a user-friendly index and a clearly marked road network complete with distances and designations for roads/motorways, plus secondary routes for those seeking to explore off the beaten path. Specialty content to include hundreds of diverse and unique recreational, ecological, cultural, and historical destinations, make this map invaluable to travelers hoping to experience all the attractions the region has to offer. National parks, bird sanctuaries, World Heritage sites, caves, and other natural points of interest are noted, as well as monuments, ski areas, spas, and more.
The north side of the print map details Queensland and the Great Barrier Reef south to Gladstone. The south side covers the remainder of Queensland from Bundaberg south, New South Wales, and Victoria. An inset map of Tasmania provides detail of the island. The locations of airports, airfields, ferry routes, and railroads take the guesswork out of travel around the region.
Every Adventure Map is printed on durable synthetic paper, making them waterproof, tear-resistant and tough -- capable of withstanding the rigors of international travel.
Map Scale = 1:1,970,000Sheet Size = 25.5" x 37.75"Folded Size = 4.25" x 9.25"