A Life on Our Planet: My Witness Statement and a Vision for the Future (Paperback)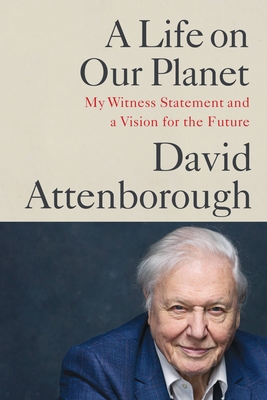 Description
---
In this scientifically informed account of the changes in nature over the last century, award-winning broadcaster and natural historian David Attenborough shares a lifetime of wisdom and a hopeful vision for the future.
*Goodreads Choice Award Winner for Best Science & Technology Book of the Year* 
  See the world. Then make it better.
I am 93. I've had an extraordinary life. It's only now that I appreciate how extraordinary.

As a young man, I felt I was out there in the wild, experiencing the untouched natural world - but it was an illusion. The tragedy of our time has been happening all around us, barely noticeable from day to day -- the loss of our planet's wild places, its biodiversity.

I have been witness to this decline. A Life on Our Planet is my witness statement, and my vision for the future. It is the story of how we came to make this, our greatest mistake -- and how, if we act now, we can yet put it right.

We have one final chance to create the perfect home for ourselves and restore the wonderful world we inherited.

All we need is the will to do so.
About the Author
---
Sir David Attenborough is a BAFTA and Emmy-Award winning broadcaster and natural historian. He is the internationally bestselling author of over 25 books, including Life on Earth. He also served as controller of BBC Two and director of programming for BBC Television in the 1960s and 1970s, and as the President of the Royal Society for Nature Conservation in the 90s.

Jonnie Hughes is a science writer and documentary director, who has produced science and natural history films for the BBC, Discovery, National Geographic, and Netflix, as well as working on BAFTA award-winning BBC series The Hunt and the Emmy award-winning production Our Planet. He is the author of On the Origin of Tepees, and his writing has appeared in The Times, The Guardian,The Independent, BBC Wildlife Magazine,and Geographical, among others.
Praise For…
---
"The eminent traveler and naturalist delivers a combination of memoir and manifesto, the first leisurely, the second earnest....Recognizing that we are at a tipping point, Attenborough is refreshingly optimistic, noting that one thing humans do well is solve problems. Anyone concerned with the planet's ecological future will want to spend time with this excellent book."—Kirkus Reviews, starred review