The Girl from Earth's End (Hardcover)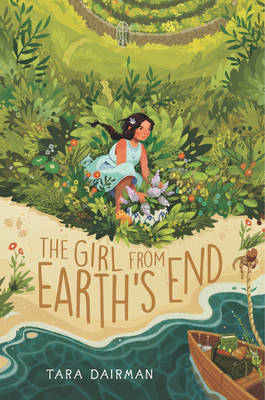 Description
---
Gifted gardener Henna embarks from her island home to search for the plant that might save her papa's life in this vibrant story of love, grief, and growth.

Twelve-year-old Henna loves living with her two papas and cultivating her beloved plants on the tiny island of Earth's End—until Papa Niall grows seriously ill. Now Henna is determined to find a legendary, long-extinct plant with miraculous healing powers, even though the search means journeying all the way to St. Basil's Conservatory, a botanical boarding school rumored to house seeds of every plant ever grown. At St. Basil's, Henna is surrounded not only by incredible plants, but also, for the first time, other kids—including her new roommates: wisecracking, genderfluid P, who gleefully bends every rule they come up against, and wealthy, distant Lora, who is tired of servants doing everything for her, from folding her clothes to pushing her wheelchair. But Henna's search for the fabled healing seed means she doesn't have time for friends—or so she thinks. This tender tale, blossoming with moments of joy, is a story of hope, grief, and learning to flourish with a little help from those around you.
About the Author
---
Tara Dairman is the author of multiple middle-grade novels, including the All Four Stars series and The Great Hibernation, and the picture book Desert Girl, Monsoon Boy, illustrated by Archana Sreenivasan, which was named a Kirkus Reviews Best Picture Book of the Year. Tara Dairman holds a BA in creative writing from Dartmouth College, has traveled to more than ninety countries, and, after a few years of adventuring around the United States in an RV with her family, now lives in Colorado.
Praise For…
---
A charming and sweet story that shows what lengths a child will go to to protect the ones she loves. . . poignant yet adventurous. . . the heart of the story lies in Henna's devotion to her fathers and finding the strength to allow others to help her when she has only known how to fend for herself. . . . Very appealing and rich with touching moments alongside innocent adventure. Readers will become friends with Henna and share in her growth while being thoroughly entertained.
—School Library Journal (starred review)

While thoughtfully building out the islands' natural world and touching on themes of discrimination, sustainability, and corporate ethics, Dairman (Desert Girl, Monsoon Boy) raises the stakes as quiet exposition gives way to a page-turning final half.
—Publishers Weekly (starred review)

The tale is a appealing blend of quirky, magical, and deeply heartfelt, with characters who unflinchingly face friendship, grief and loss; when it finds the right reader, it's going to sit as a cozy pleasure.
—The Bulletin of the Center for Children's Books

Humor and a suspenseful adventure balance the sensitive, aching exploration of loss. . . . Dairman's careful use of details sets up an emotionally fulfilling, bittersweet resolution. A coming-of-age story blossoming with tender honesty and hope.
—Kirkus Reviews

Issues of disability accessibility, gender identity, and grief and loss figure heavily, yet naturally, in the intertwined storylines. . . . Readers intrigued by the wonders of the natural world will find a kindred spirit in Henna, whose determination and unwavering love for her papas propel this story to its dynamic conclusion.
—The Horn Book

Henna's is an endearing and compassionate tale in a richly rendered, slightly fantastical world with skillfully crafted story lines around conservation, sacrifices, and grief. Readers will root for Hanna as she grows new peer relationships while nurturing an enduring love for her fathers.
—Booklist

A tender-hearted middle grade novel. . . Especially powerful are the depictions of Henna's friends, P and Lora, and their experiences as gender-fluid and disabled children, respectively. They are shown as whole people not in need of fixing, while illustrating the ways that the structures of society can make their everyday lives uncomfortable or difficult. There are no true villains here, as even the antagonists are treated with similarly empathetic nuance.
—School Library Connection

The Girl from Earth's End is a lushly written, heart-filling story about deep-rooted family, sprouting friendship, and flowering understanding. Young readers will love jumping on the orange boat with Henna on her quest to save her beloved papa.
—Rajani LaRocca, author of the Newbery Honor Book Red, White, and Whole

Dairman at her best and most lyrical. A true journey of the heart! The Girl from Earth's End blooms with warmth, light, and deep-rooted love. Words sparkle and grow on every page. Readers won't soon forget this book.
—Ingrid Law, author of the Newbery Honor Book Savvy

This book is a masterpiece. With a story that grabs you and doesn't let go, a lush setting that ignites your imagination, and characters who will live in your heart long after you close the book, The Girl from Earth's End will transport you to a different world—one where you'll laugh, cry . . . and won't want to leave.
—Ann Braden, award-winning author of The Benefits of Being an Octopus and Opinions and Opossums

Prepare yourself for an enchanting journey full of humor and heart. The Girl from Earth's End will charm and captivate readers—a classic in the making.
—Jennifer Chambliss Bertman, New York Times best-selling author of the Book Scavenger series and Sisterhood of Sleuths

Richly imagined and beautifully detailed, The Girl from Earth's End expertly weaves contemporary themes into a timeless, heartfelt tale that not only transports the reader but transforms them. A breathtaking gem of a book.
—Elaine Vickers, award-winning author of Like Magic and Half-Moon Summer

This book made my heart grow. Henna's courage, resilience, and determination are an inspiration for any reader facing changes and challenges in life. Full of lyrical language and hope, The Girl from Earth's End is a testament to the eternal loyalty, heartbreaking limits, and boundless possibilities of friendship, family, and love.
—Jessica Lawson, award-winning author of Nooks & Crannies and Waiting for Augusta

12-year-old Henna leaves her home on the tiny island of Earth's End to attend an elite botanical academy, secretly hoping she will find a 'nightwalker' plant that could save her dying father, in this wondrous tale of family, loss and healing by Colorado author Tara Dairman. Dairman conjures a marvelous world and backstory.
—The Buffalo News

Henna is set on securing a rare plant located at an elite botanical boarding school in order to heal one of her dads. Transport to a world full of plants, whimsical and tender friendships, as well as heart-wrenching exploration of dealing with the illness of a parent in this special book. A great choice for the environmentally-minded.
—The East Bay Times

'The Girl From Earth's End' by Tara Dairman is an uplifting story about friendship, joy, grief, and acceptance.
—The Midland Daily News