Astrology Wall Calendar 2024: Guidance from the Stars for 2024 (Calendar)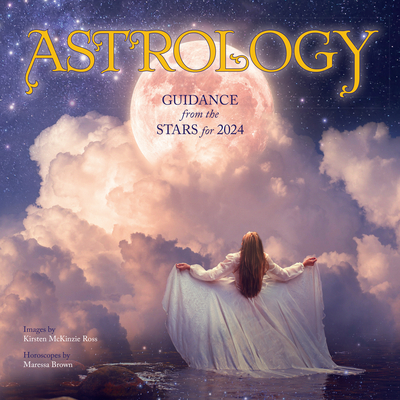 Description
---
Follow the wisdom of the stars throughout 2024 with stunning, dreamlike images and detailed horoscopes for all twelve signs, every month.
HOROSCOPES TO INSPIRE CREATIVTY AND ACTION ALL YEAR: Each month features detailed horoscopes for all signs, offering insight into your future, your goals, and yourself. Plus key astrological events, planetary positions, and moon phases.  
STUNNING ARTWORK – Digital collage artist Kirsten McKinzie Ross captures the spirit of each zodiac sign. 
BEAUTIFUL QUALITY – Printed to exacting standards on responsibly sourced paper.
STAY ORGANIZED – Roomy grids have plenty of room to write, helping you track appointments and remember important dates. 
PERFECT GIFT – For astrology lovers, spiritual seekers, and anyone interested in their horoscopes, a way to shine and discover meaning every month of the year.
About the Author
---
Kirsten McKinzie Ross (@midnightmoonvisuals) is a California-based digital collage artist. Her art explores themes of astrology, moonology, and spirituality. Through her art, Ross encourages her more than 40,000 engaged followers on Instagram to explore the metaphysical, to think introspectively, and to anchor into the beauty of the Sacred Feminine. For more, visit midnightmoonvisuals.com.

Maressa Brown (@maressa.brown on Instagram and @MaressaSylvie on Twitter) is a Los Angeles-based journalist, author, and astrologer with more than 6,500  followers across social media platforms. Her astrology content and horoscopes have appeared in digital and print publications such as InStyle magazine, Shape, Parents, and PopSugar. She is the author of Raising Baby by the Stars: A New Parent's Guide to Astrology (Artisan 2023) and a forthcoming book from Workman. For more, visit maressabrown.com.