Year of No Garbage: Recycling Lies, Plastic Problems, and One Woman's Trashy Journey to Zero Waste (Paperback)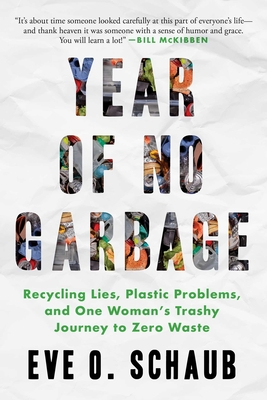 Description
---
"Eve's brave and honest experiment reveals the shocking impact of the throwaway society we've become and at the same time showing small ways we can all do better." —Rebecca Prince-Ruiz, founder of Plastic Free July

Year of No Garbage is Super Size Me meets the environmental movement.

In this book Eve O. Schaub, humorist and stunt memoirist extraordinaire, tackles her most difficult challenge to date: garbage. Convincing her husband and two daughters to go along with her, Schaub attempts the seemingly impossible: living in the modern world without creating any trash at all. For an entire year. And- as it turns out- during a pandemic.

In the process, Schaub learns some startling things: that modern recycling is broken, and single stream recycling is a lie. That flushable wipes aren't flushable and compostables aren't compostable. That plastic drives climate change, fosters racism, and is poisoning the environment and our bodies at alarming rates, as microplastics are being found everywhere, from the top of Mount Everest to the placenta of unborn babies. 
If you've ever thought twice about that plastic straw in your drink, you're gonna want to read this book.
About the Author
---
Eve O. Schaub is a published author and speaker who writers 'stunt' memoirs in order to illuminate the ills of contemporary society in a relatable and engaging way. 

Her first book, Year of No Sugar, enjoyed international attention including coverage on the Dr. Oz show, Fox and Friends, USA Today, The Huffington Post, The Boston Globe, The Denver Post, The New York Daily News, Everyday Health, and the Yahoo homepage, among others. In it, she convinces he two young children and husband to eat no added sugar for a year. In her second book, Year of No Clutter, she tackles her hoarding tendencies and tries to understand/undo them. Her second book has sold over 9,000 copies.
 
Schaub has written for publications such as Hyperallergic, VTDigger, Vermont Life, Vermont Magazine, Everyday Health, and the Boston Globe online. Her personal essays have been featured numerous times on Albany, New York NPR station WAMC. A graduate of both Cornell University (BA, BFA) and the Rochester Institute of Technology (MFA),
she lives in Vermont with her family and an ever-fluctuating number of chickens.
 
 
Praise For…
---
In Praise of Year of No Garbage:

"January 2020 saw author Schaub (Year of No Clutter, 2017) embark on a new, daunting journey—she vowed not to generate any garbage for an entire year. Living completely garbage free sounds like a pipe dream, the realities of which Schaub tackles head-on over the course of the year. . . . Part exploration of consumerism, part science side of garbage, and part memoir, this is an excellent look at one family's journey toward going zero garbage. Everything from the chemistry of various "recyclable" plastics to where your recycling actually goes is explored. Tips and tricks on living garbage free are laid out alongside very honest admissions of personal pitfalls, surprises learned, and perhaps most importantly of all, the ways society is built around disposability, and just how difficult it is to go zero garbage when everything around you is built to be used once and then thrown away. Perfect for readers of memoir and science as well as those interested in the cross section of consumerism and going green." —Booklist

"Between chicken coops, various storage containers for miscellaneous plastic, and multiple composting bins, Eve Schaub's pandemic passion project looked a lot different than most people's. . . . Schaub had the idea of completing an entire calendar year without throwing anything away. . . . The best-selling author has published her latest book documenting her most recent experimentation. . . . Despite the gravity of her findings, Schaub wanted readers to take away something positive from her lessons learned." —NBC5, Vermont
 

"I never knew the granular story of how difficult it can be to go zero waste. In her new book, author Eve O. Schaub shares with us her own experience. I came out the richer in knowledge thanks to Eve's confessions of her successes and tribulations. It isn't easy, she writes. But we can all come closer. In this fascinating read, Year of No Garbage gives us very good tips, too." —David Steinman, author of Diet for a Poisoned Planet, Safe Trip to Eden, and Raising Healthy Kids: How to Protect Your Children from the Hidden Chemical Toxins in Our Everyday Lives

"Eve's brave and honest experiment reveals the shocking impact of the throwaway society we've become and at the same time showing small ways we can all do better." —Rebecca Prince-Ruiz, founder of Plastic Free July

"It's about time someone looked carefully at this part of everyone's life--and thank heaven it was someone with a sense of humor and grace. You will learn a lot!" —Bill McKibben

"What starts out as a humorous search for Zero Waste turns into a profound investigation into the limits of personal responsibility in a culture thoroughly entrenched in toxic plastic. Year of No Garbage is both a delightful memoir and the wake up call we need to start seriously addressing the Plastic Crisis today." ―Judith Enck, Former EPA regional administrator and founder of Beyond Plastics

"Year of No Garbage is an utterly delightful read! Schaub is relatable, informative, and non-judgmental. Her book encapsulates the many ups and downs of trying to reduce one's waste, and most importantly shining the light on one of the biggest problems—manufacturing and policy." ―Kathryn Kellogg, author of 101 Ways to Go Zero Waste

"This year gave me emotional damage! I couldn't believe how much disposable plastic we all use every day and how harmful it really is. Read this book and you will never look at garbage the same way again." —Steven He, YouTuber, creator of the "emotional damage" meme, 14 million followers

In Praise of Year of No Clutter:

"Schaub approaches this topic with humor and honesty, just like her former book. I'd call it more of a memoir of her personal exploration of this issue in her own life than an inspiring how-to, but I definitely enjoyed it." —5 Minutes for Mom

"Schaub weaves in thoughtful cultural references... her recognition that clutter of the mind is as real as tangible clutter makes this a personal and powerful read." —Booklist

"This isn't a how-to book, it's not about helping you clear your clutter. It is one woman's open and honest journey through her own battle with clutter but in the process of reading you will probably recognize yourself in Eve, as I did, and it will spur you on to deal with your own clutter." —Rather Too Fond of Books

"I found wry wit and laugh-out-loud humor as the author delves into her memories while coming to terms with the truth about stuff...and her tendency to keep it." —Finding My Inner Kate

"Just like her previous memoir, Year Of No Sugar, her latest is inspiring and humorous – along with the odd 'wait, what?' moment (the story of the mouse, that's all I'll say)." —After the Rain Comes Sunshine

"Everyone has their own Hell Room, and Eve's battle with her clutter, along with her eventual self-clarity, encourages everyone to dig into their past to declutter their future. Year of No Clutter is a deeply inspiring--and frequently hilarious -- examination of why we keep stuff in the first place, and how to let it all go." —Chelle's Write

"Those who, like Schaub, are looking for a way to declutter that encompasses finding homes for discarded items rather than simply going to a Dumpster, will appreciate Schaub's judgment-free, instructive, funny approach to being a "domestic belonging preservationist" with a place for everything that matters." —Publishers Weekly

"Part memoir and part how-to guide, Schaub's book casts a lightheartedly humorous light on the First World obsession with acquisition while showing readers that less truly can be more. A wry account of the author's quest to "pitch, plunder, recycle, and sell." —Kirkus Reviews

In Praise of Year of No Sugar:

"[Schaub] debunks questionable nutritional advice, pokes fun at her own past experiments with health fads, and recalls the particular challenges of sweets-laden Halloween and Christmas. At the end of the year, the family was healthier, and they had accumulated a store of ideas and recipes (included in the book) to counter the craving for something sweet." —Booklist

"Delightfully readable account of how [Schaub] and her family survived a yearlong sugar-free diet―and lived to tell the tale. ... A funny, intelligent and informative memoir." —Kirkus Reviews

"The diary I wish I had kept ... the adventures of her family, the roadblocks they encountered, and the sheer daily difficulty of overcoming a national obsession." —From the foreword by David Gillespie, author of Sweet Poison

"Eve O. Schaub's Year of No Sugar has the potential to alter your deeply rooted convictions regarding the innocent pleasure of sugar." —Betsy Shaw, Babycenter.com blogger and former Olympic snowboarder

"Vermont author Eve O. Schaub chronicles how her family (husband, two school-age daughters) tried to banish fructose and "it's many, many aliases" from their life. Easier said than done, since the stuff has snuck into everything from ketchup to salad dressing to bacon. When Schaub announces the plan, both girls break into hysterical tears (one later describes her sugar-free family as "mutants"). But as the months progress, their sweets cravings diminish (substitutes help, like brown rice syrup), and they feel happier and healthier." —Boston Globe

"Schaub is a wonderful storyteller. Her sense of humor and ability to paint pictures of situations they find themselves makes Year of No Sugar a pleasure to read. Whether or not you decide to follow in her footsteps concerning limiting or removing sugar from your diet, you will undoubtedly enjoy reading her story, and find lots of food for thought as well. " —Story Circle Book Reviews

"The surface charm of Year of No Sugar―breezy wit, blithe anecdote and effortless evocation of people and the stuff they put in their mouths―cannot conceal Schaub's deeper purpose: a takedown of sugar, its disarming myths, its dangerous presence in nearly everything we eat, and its cynical marketing. Delicious and compelling, her book is just about the best sugar substitute I've ever encountered." - Pulitzer-Prize-winning author Ron Powers

"informative and hilarious . . . Eve and her husband tackled every blip, fit and question with a heaping dose of good humor." —Woman's World

"Eve Schaub has certainly heightened my awareness of sugar. After reading Year of No Sugar, I haven't been able to walk in the grocery store without reading a label (which I always did, but now it's really consuming). If you're looking for an entertaining read, pick up a copy and see if you can't help but avoiding the sweet stuff―even that can be addictive." —Sweet Home

"I admire Eve and her family for their stick-to-itiveness, and I highly recommend Year of No Sugar. It's a quick read, but will leave you thinking for a long time. It certainly raised my awareness." —Baby Center Blog