Mud, Blood, and Ghosts: Populism, Eugenics, and Spiritualism in the American West (Paperback)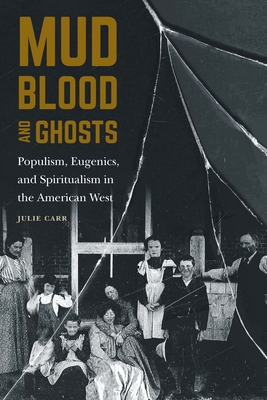 Description
---
Populism has become a global movement associated with nationalism and strong-man politicians, but its root causes remain elusive. Mud, Blood, and Ghosts exposes one deep root in the soil of the American Great Plains. Julie Carr traces her own family's history through archival documents to draw connections between U.S. agrarian populism, spiritualism, and eugenics, helping readers to understand populism's tendency toward racism and exclusion.

Carr follows the story of her great-grandfather Omer Madison Kem, three-term Populist representative from Nebraska, avid spiritualist, and committed eugenicist, to explore persistent themes in U.S. history: property, personhood, exclusion, and belonging. While recent books have taken seriously the experiences of poor whites in rural America, they haven't traced the story to its origins. Carr connects Kem's journey with that of America's white establishment and its fury of nativism in the 1920s. Presenting crucial narratives of Indigenous resistance, interracial alliance and betrayal, radical feminism, lifelong hauntings, land policy, debt, shame, grief, and avarice from the Gilded Age through the Progressive Era, Carr asks whether we can embrace the Populists' profound hopes for a just economy while rejecting the barriers they set up around who was considered fully human, fully worthy of this dreamed society.
About the Author
---
Julie Carr is a professor of English at the University of Colorado, Boulder. She is the author or coauthor of numerous books of poetry and prose, including 100 Notes on Violence, Someone Shot My Book, and Real Life: An Installation.
Praise For…
---
"An exquisite mosaic of the cruel and haunting complexities of family, race, property, and political power in the American West. Carefully researched, Mud, Blood, and Ghosts is a brave and moving book."—Avery F. Gordon, author of Ghostly Matters: Haunting and the Sociological Imagination

"An outstanding, genre-bending family memoir. . . . Written with the prowess of a scholar and full of the insightfulness and precision of a poet, Mud, Blood, and Ghosts takes us simultaneously back to the nineteenth-century family origins of this story and into our turbulent present, where the urgent beating of land taken reverberates aloud, reminding us of the structural inequality of this country. Carr visits with ghosts and delivers their truth: the past is never the past. The future, if there is one, is up to us. Frankly: a must-read."—Cristina Rivera Garza, distinguished professor of Hispanic studies and creative writing at the University of Houston

"Julie Carr, in her panoramic exhumation and exposé of the ties—the roots—that bind, precariously and profoundly, the present to the past, is, as it turns out, the ghost jumping on her great-grandfather's bed, rustling his blankets, keeping his life—and history, for the future—unquiet, unable to rest. Mud, Blood, and Ghosts—transdisciplinary biography as reappropriation—is not only the title of this book, but precisely what it is made of."—Brandon Shimoda, author of The Grave on the Wall

"Julie Carr brings alive the disquieting and kaleidoscope history of her great-grandfather, a radical Populist who homesteaded in the U.S. West at the turn of the century. She unflinchingly shows how his struggle for survival was characterized by an unruly combination of hardscrabble determination, spiritual longings, eugenic beliefs, and white supremacy. As she poignantly reconstructs an intensely personal past, Carr grapples with the ghosts of violence, silence, and memory in the politically volatile present."—Alexandra Minna Stern, author of Eugenic Nation: Faults and Frontiers of Better Breeding in Modern America

"Why should readers care about Omer Kem? Because he stands in for a kind of everyman—his hopes, fears, and prejudices represent the legacies that white Americans carry into the present. Mud, Blood, and Ghosts powerfully captures what it means to be an American in the twenty-first century, sticky with the residue of history. It is beautiful, evocative, and difficult. This is the right book at the right time."—Katrine Barber, author of In Defense of Wyam: Native-White Alliances and the Struggle for Celilo Village