Search for Books
ABA Mobile Menu
The Homeplace: A Mystery (Hardcover)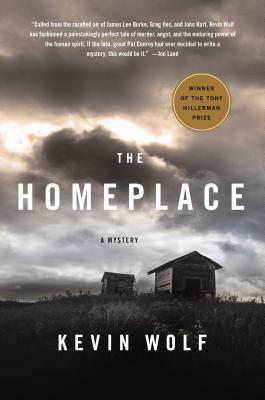 List Price: $24.99
Our Price: $15.00
(Save: $9.99 40%)
Description
---
"Culled from the rarefied air of James Lee Burke, Greg Iles, and John Hart, Kevin Wolf has fashioned a painstakingly perfect tale of murder, angst, and the enduring power of the human spirit. If the late, great Pat Conroy had ever decided to write a mystery, this would be it." —Jon Land
"Kevin Wolf's debut novel, The Homeplace, succeeds in every way. He has crafted a gripping, fast-paced narrative with beautifully drawn characters in an authentic and interesting small-town Colorado setting. Not only is the mystery compelling, but so are the characters. Even if there were no murders to solve, you would still want to spend time with these fascinating people whose lives echo the sparse and gorgeous landscape they inhabit and whose pasts refuse to leave them to their futures." —Christine Carbo, author of The Wild Inside
Chase Ford was the first of four generations of Ford men to leave Comanche County, Colorado. For Chase, leaving saved the best and hid the worst. But now, he has come home. His friends are right there waiting for him. And so are his enemies.
Then the murder of a boy, a high school basketball star just like Chase, rocks the small town. When another death is discovered—one that also shares unsettling connections to him—law enforcement's attention turns towards Chase, causing him to wonder just what he came home to.
A suspenseful, dramatic crime novel, The Homeplace captures the stark beauty of life on the Colorado plains.
About the Author
---
Kevin Wolf is a member of Rocky Mountain Fiction Writers and Crested Butte Writers. He. He blogs with other authors at Writers on the Brink and hones his work at regular meetings of the Southwest Plaza Critique group. He lives in Colorado.
Praise For…
---
"The Homeplace is one of those rare books that transcends genre and challenges our sensibilities with its no-holds-barred treatment of whatever's left of small town Americana. Culled from the rarefied air of James Lee Burke, Greg Iles and John Hart, Kevin Wolf has fashioned a painstakingly perfect tale of murder, angst, and the enduring power of the human spirit. If the late, great Pat Conroy had ever decided to write a mystery, this would be it. An instant classic that is not to be missed." —Jon Land, USA Today bestselling author of the Caitlin Strong series
"It has been said that story-telling has only two plots: Somebody takes a trip. Or a stranger comes to town. In Kevin Wolf's terrific debut mystery The Homeplace, the author weaves the two plot strands into one seamless story that grabs readers on the first page and carries them right through to its memorable conclusion. Wolf writes smoothly and clearly and stays out of the way, letting his characters carry the story. The author's knowledge of small-town law enforcement, Colorado, and outdoor fieldcraft shines. I expect and hope to see more from Mr. Wolf and these characters in the seasons ahead." —Joseph Heywood, author of the Woods Cop mysteries
"The Homeplace kept me reading well beyond my bedtime. Kevin Wolf has a natural ability at pacing, and he tells a story that moves along without a single wasted moment, weaving people you come to care about, and their personal stories, in a seamless narrative that builds tension chapter by chapter." —Robert Bausch, author of Far as the Eye Can See
"Kevin Wolf's debut novel, The Homeplace, succeeds in every way. He has crafted a gripping, fast-paced narrative with beautifully-drawn characters in an authentic and interesting small-town Colorado setting. Not only is the mystery compelling, but so are the characters. Even if there were no murders to solve, you would still want to spend time with these fascinating people whose lives echo the sparse and gorgeous landscape they inhabit and whose pasts refuse to leave them to their futures." —Christine Carbo, author of The Wild Inside
"Kevin Wolf's debut novel is a stunner, beautifully realized in language as pure and constant as the Colorado prairie winds. The Homeplace is populated with small town characters that have the ring of truth as they struggle with their intertwining histories and the restless hopes and dreams that lead them to violence and redemption. This is a mystery with great heart and a tender yet tough appreciation for the simple passions that both divide and unite us. Mr. Wolf is a first-rate storyteller." —James Anderson, author of The Never-Open Desert Diner
"In The Homeplace, Kevin Wolf creates a compelling cross between a modern-day Western and a murder mystery with a story that centers around Chase Ford, the damaged hero who returns to his home town to find it turned upside down by three murders. The Homeplace is not only a terrific mystery but also a wonderfully evocative examination of the difficulties of going home and the baggage that awaits us there." —Allen Eskens, author of The Life We Bury
"A humdinger of a first novel that brings together several gripping storylines, an appealingly flawed hero, and an intimate sense of life in small-town America." —Kirkus Reviews
"Filled with brilliant well-placed descriptions of small town moodiness, politics, and gossip, Kevin Wolf has written a solid mystery which is abundant with unexpected twists in all the right places. The emotional intensity of the plot contrasts nicely with the sullen beauty of the open prairie." —Colorado Book Review
"Wolf manages to mix a trip down memory lane with a lovely, old-fashioned whodunit." —Booklist
"Similar to Hillerman's, the prose here is clear-eyed and non-flashy. The characters are vivid. And the mystery is a grabber, with an everyman undertow." —The New York Journal of Books
"Winner of the 2015 Tony Hillerman Prize, this cross between a Western and a murder mystery will please Craig Johnson and C.J. Box aficionados." —Library Journal
"Reminiscent of the novels of James Lee Burke or John Hart....With nuanced characters and an appealingly flawed hero, The Homeplace is an intriguing look at what can happen when someone returns to the scene of their youth after too long away." —ShelfAwareness
"The Homeplace is an elegant and quiet novel which weaves a suspenseful and atmospheric mystery against the backdrop of Comanche County, Colorado. It's hard to believe this is a debut novel! The prose are graceful, while employing the vernacular and informal, dialect true to the location. The characters are unique and original....This book is packed with raw emotions, gut wrenching revelations, and a stunning conclusion."
—Night Owl Reviews
"The reader feels almost as if (s)he has grown up with the characters. There is depth to each, and each plays a unique role in the tragedy that Ford faces.... [B]etween the opening page and the closing one, there is an intense plot that keeps the reader reading on. It's hard to set this book down.... This is an amazingly well realized depiction of a small Western town." —Reviewing the Evidence