Reckoning from the Shadows: A Riveting Political and Espionage Thriller (The Ahriman Legacy) (Paperback)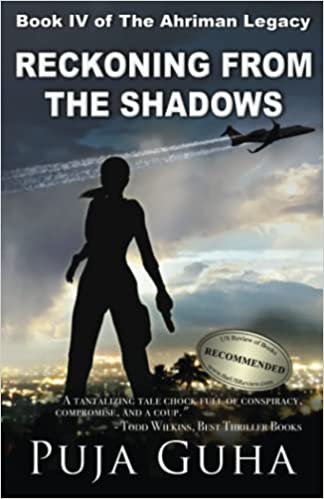 $13.99

If not in stock, we can Special Order from the publisher
Description
---
After barely getting out of Russia alive, Veronica thought her life would finally be at peace.
However, her problems have only just begun. In April 2024, she comes face to face with her reckoning from the shadows at a safe house in New York—her ex-boyfriend and Agency traitor, Kevin.
Misjudged as an ambush, Kevin comes with a warning that the FSB is after her and disappears into the night. The hunt to bring him to justice begins.
Puja Guha returns with her latest spy thriller, AHRIMAN: RECKONING FROM THE SHADOWS from The Ahriman Legacy series, which extrapolates the story of Petra Shirazi, Veronica, and Kasem in a compelling narrative where the characters are put to the test wills and mental fortitude.
Veronica tracks Kevin to Burundi, a country in the East African Great Lakes region, where he is covertly working with Chinese intelligence to manipulate a major power contract on the brink of being awarded.
"Fool me once, shame on you, fool me twice, shame on me" echoes in Veronica's head as she finds herself with more questions than answers.
She vows to stop him, but she can't conduct the investigation alone. Some familiar faces enter the frame...
Petra Shirazi and Kasem Ismaili are rekindling their relationship and trying to leave their past with the Agency behind them. Under her new alias Ana Zagini, teaching Security Law in Paris, Petra finds herself at home while Kasem is still struggling with the aftermath of his imprisonment in Iran.
When Veronica resorts to blackmail to secure their help, they have no choice but to join her on the operation. Will the couple ever be able to lead a normal life?
The team arrives onsite only to get caught up into a much larger plot in which Chinese intelligence is attempting to orchestrate a military coup d'etat to ensure their participation in a major green energy deal.
The Agency mole hunt turns into a race to stop the local government from being overturned by Chinese intelligence. As the conspiracy unravels, the team begins to question the Agency's motivation and has to decide who to trust.
The adventurists are not strangers to finding themselves in precarious situations. However, amidst conflicting ambitions and baggage that would be best left in the past, can the team put their differences aside to focus on the threat at hand?
The drama leads toward a more puzzling situation hot on the trail of the dynamic duo and the rest of the team. Readers should expect nail-biting confrontations and moments that will leave them conflicted about which side to choose.
The display of peril is vividly constructed with Puja's established knack for authenticity, this time focusing more on the emotional struggles of the characters than the series' previous installments.
The perfect blend of action, espionage and suspense, thriller readers are in for a treat!