Shadow Speaker: The Desert Magician's Duology: Book One (Hardcover)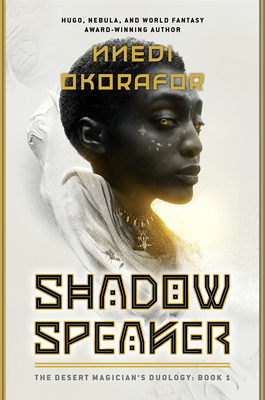 $27.00

NOT on our shelves - Usually Ships in 1-5 Days
Description
---
Amazon Editor's Pick, Best SFF September 2023 •  The Strand, Science Fiction Pick of the Month October 2023

Deluxe, expanded edition of an out-of-print early novel from Africanfuturist luminary Nnedi Okorafor, with a brand-new introduction from the author.

Niger, West Africa, 2074
 
It is an era of tainted technology and mysterious mysticism. A great change has happened all over the planet, and the laws of physics aren't what they used to be.
 
Within all this, I introduce you to Ejii Ugabe, a child of the worst type of politician. Back when she was nine years old, she was there as her father met his end. Don't waste your tears on him: this girl's father would throw anyone under a bus to gain power. He was a cruel, cruel man, but even so, Ejii did not rejoice at his departure from the world. Children are still learning that some people don't deserve their love.  
 
Now 15 years old and manifesting the abilities given to her by the strange Earth, Ejii decides to go after the killer of her father. Is it for revenge or something else? You will have to find out by reading this book.
 
I am the Desert Magician, and this is a novel I have conjured for you, so I'm certainly not going to just tell you here.
About the Author
---
Nnedi Okorafor was born in the United States to two Igbo (Nigerian) immigrant parents. She holds a PhD in English and was a professor of creative writing at Chicago State University. She has been the winner of many awards for her short stories and young adult books, and won a World Fantasy Award for Who Fears Death. Nnedi's books are inspired by her Nigerian heritage and her many trips to Africa.
Praise For…
---
"The postapocalyptic Saharan landscape is striking; technology, magic, and awe-inspiring nature all weave together in the background of this vivid adventure centered on the coming-of-age theme that is a hallmark of Okorafor's work. The characters, meanwhile, are expertly realized­... a mind-blowing expedition into a not too distant future world." —Publishers Weekly (starred review)

"Shadow Speaker is wonderful, highly original stuff, episode after amazing episode, full of color, life and death…. Nnedi also deals head-on with the fact that power and pain are closely linked, as are magic and blood. I think this book is marvelous." —Diana Wynne Jones, author of Howl's Moving Castle and the Chronicles of Chrestomanci

"There's more vivid imagination in a page of Nnedi Okorafor's work than in whole volumes of ordinary fantasy epics." —Ursula K. Le Guin, author of The Left Hand of Darkness

"Shadow Speaker is endlessly imaginative, full of mystery and delight on every page. Nnedi Okorafor is a voice that will delight readers of all ages and backgrounds." —Tananarive Due, American Book Award-winning author of Joplin's Ghost

"As wildly inventive and suspenseful as her first novel, [Shadow Speaker] is at the same time more ambitious and thematically complex, and represents a major step forward for a storyteller who, in the tradition of Octavia Butler and Nalo Hopkinson, is equally adept at combining that most contemporary of forms, science fiction, with the ancient beliefs and values of non-western cultures that have for too long been underrepresented in modern fantastic literature." —Gary Wolfe, lead reviewer for Locus Magazine

"Crafted around complex themes of identity, morality, and empowerment, this bildungsroman, originally published in 2008, will appeal to young adult and adult readers alike with its highly original and imaginative Africanfuturism elements." —Booklist