Good News, Planet Earth: What's Being Done to Save Our World, and What You Can Do Too! (Paperback)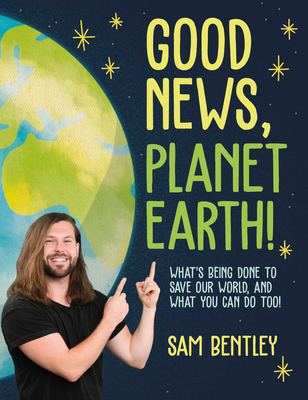 Description
---
Join sustainability enthusiast and climate activist Sam Bentley as he shares the hopeful developments combating climate change!

Do you feel like climate change is just getting worse and there's nothing you can do to stop it? Good news—there are tons of efforts already underway to save our planet, and we'd love for you to join the fight.

Good News, Planet Earth! is your go-to guide to learn all about the amazing sustainable developments that are happening worldwide to combat global warming, pollution, deforestation, the use of wasteful products, and threats to our diverse wildlife.

Inside you'll find:
·        25 chapters covering ocean-cleanup innovations, composting initiatives, animal rights activism, efforts to greenify public spaces, solar power advancements, public transportation solutions, and more!
·        100 actionable steps you can take to fight climate change and live more sustainably!

An uplifting and informative call to action for any environmentally conscious individual, Good News, Planet Earth! is the small but mighty book that might just help save the world!
About the Author
---
SAM BENTLEY is a climate activist and sustainability content creator who's worked in social media for over a decade. He has built some of the largest platforms across social media, reaching millions of people. His main goal is to use his social media channels to inspire and create positive change. You can follow him on Instagram and TikTok @sambentley.

Sam now creates accessible content around climate solutions and spreads awareness about meaningful initiatives happening around the world to help secure a safe and inclusive future for the following generations. He lives in Birmingham, England.
Praise For…
---
"Readers will find practical suggestions and first steps for getting involved, numerous references and resources, and most importantly, hope."—Booklist