Llewellyn's 2024 Magical Moon Calendar: Spells, Rituals & Lore (Wall)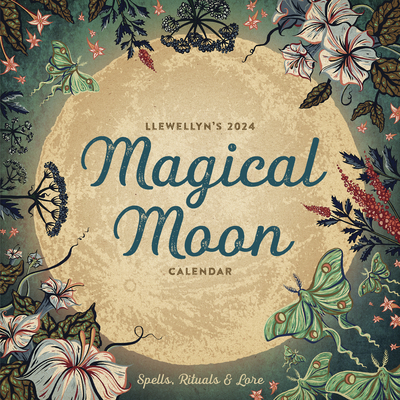 Description
---
Treat yourself to spectacular artwork, spells, and rituals all year long with this moon-themed calendar. Featuring illustrations by renowned artists Abigail Larson, Barbara Tamilin, Sue Gent, and Mickie Mueller, Llewellyn's 2024 Magical Moon Calendar is a delightful, multi-purpose tool that will enhance your magical practice.

Each stunning piece of art is accompanied by a spell, ritual, or fascinating bit of lore. In addition to standard US, UK, Canadian, and Pagan holidays, this calendar provides moon phases, eclipses, supermoons, and other astrological information related to the moon.
About the Author
---
Llewellyn Publications has grown and expanded into new areas of personal growth and transformation since it began as the Portland School of Astrology in 1901. Along with the strong line of astrology books the company was founded upon, Llewellyn publishes books on everything from alternative health and healing, Wicca and Paganism, to metaphysics and the paranormal-and since 1994 has published a growing list of Spanish-language titles. Llewellyn has long been know as one of America's leading publishers of New Age books, producing a wide variety of valuable tools for transformation of the mind, body and spirit. Reach for the Moon-and discover that self-help and spiritual growth is what Llewellyn is all about.As the world's oldest and largest independent publisher of books for body, mind, and spirit, Llewellyn is dedicated to bringing our readers the very best in metaphysical books and resources. Since 1901, we've been at the forefront of holistic and metaphysical publishing and thought. We've been a source of illumination, instruction, and new perspectives on a wealth of topics, including astrology, tarot, wellness, earth-based spirituality, magic, and the paranormal. From e-books to tarot-themed iPhone apps, Llewellyn has embraced the Digital Age to continue our mission. Llewellyn also partners with Italian publisher Lo Scarabeo, as the exclusive US and Canadian distributor of their beautiful tarot and oracle decks. They also partner with Blue Angel, an Australian publisher of oracles, books, CDs, and other sidelines.