The Girl in the Eagle's Talons: A Lisbeth Salander Novel (Large Print / Paperback)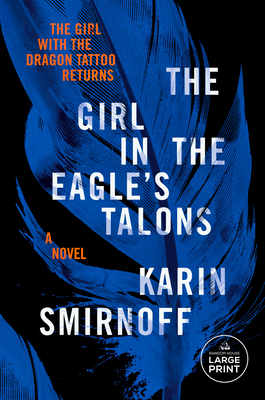 $31.00

NOT on our shelves - Usually Ships in 1-5 Days
Description
---
NEW YORK TIMES BEST SELLER • #1 INTERNATIONAL BEST SELLER • Lisbeth Salander returns, in a trailblazing new installment to the best-selling Girl with the Dragon Tattoo series • Also known as the Millennium series

"Lisbeth Salander is back—and maybe better than ever. Karin Smirnoff's take is both respectful of the past and ready for the future—altogether remarkable." —Lee Child, author of No Plan B

"An absolutely brilliant continuation of the series: exciting plot, plenty of action, and a sensitive portrayal of complicated relationships—where the new character Svala is one of the highlights." —Femina

Change is coming to Sweden's far north: its untapped natural resources are sparking a gold rush, with the criminal underworld leading the charge. But it's not the prospect of riches that brings Lisbeth Salander to the small town of Gasskas. She has been named guardian to her niece Svala, whose mother has disappeared. Two things soon become clear: Svala is a remarkably gifted teenager—and she's being watched.

Mikael Blomkvist is also heading north. He has seen better days. Millennium magazine is in its final print issue, and relations with his daughter are strained. Worse still, there are troubling rumors surrounding the man she's about to marry. When the truth behind the whispers explodes into violence, Salander emerges as Blomkvist's last hope.

A pulse-pounding thriller, The Girl in the Eagle's Talons sees Salander and Blomkvist navigating a world of conspiracy and betrayal, old enemies and new friends, ice-bound wilderness and the global corporations that threaten to tear it apart.
About the Author
---
KARIN SMIRNOFF is a best-selling author in her native Sweden where her books have sold more than 700,000 copies. Her debut novel, My Brother, was nominated for the prestigious August Prize. She was born in Umeå, a small hamlet in northern Sweden, near where she now lives and a short drive from where Stieg Larsson himself grew up.

SARAH DEATH is a translator, literary scholar, and editor of the U.K.-based journal Swedish Book Review. Her translations from the Swedish include Ellen Mattson's Snow, for which she won the Bernard Shaw Translation Prize. She lives and works in Kent, England.
Praise For…
---
"Lisbeth Salander is back—and maybe better than ever. Karin Smirnoff's take is both respectful of the past and ready for the future—altogether remarkable." —Lee Child, author of No Plan B
 
"An absolute incident-packed thrill-ride from start to finish. Karin Smirnoff has taken on the legacy of a legend and done the series justice." —Jo Spain, author of The Perfect Lie

"Smirnoff's writing is wonderfully vivid. If books were birds, this would be a raptor diving towards its prey with brutal agility." —Anna Bailey, author of Where the Truth Lies
 
"Fresh, fearless, faithful, and original. Karin Smirnoff takes on a heady challenge and makes a stylish, exciting, and truly worthy statement. One of the great crime series of our time could not be in safer, more capable hands. I loved it." —Chris Whitaker, author of We Begin at the End

"Propulsive . . . Smirnoff adds new maturity and depth to the two leads, offers several jaw-dropping plot twists . . . Fans will find it a worthy addition to the series." —Publishers Weekly

"This seventh book featuring the iconoclastic, anarchic Lisbeth Salander is the first to be written by a woman, and it is all the better for it . . . Stieg Larsson gave his leading character a sharpness and contemporary relevance that echoed around the world . . . Smirnoff manages to recapture that . . . She adds another memorable ingredient: Svala, a gifted teenager who is almost as extraordinary as Salander herself . . . This legendary crime series is, thankfully, back in safe hands." —Geoffrey Wansell, Daily Mail
 
"Smirnoff sustains the series' trademark interwoven plotlines and no-holds-barred war on predators, but puts her unique stamp on it by weaving a stronger thread of optimism into Lisbeth's sharp edges." —Christine Tran, Booklist
 
"Engaging and intense . . . Smirnoff maintains the tradition of the Millennium series . . . Her strong vivid style carries the story . . . Kudos to Sarah Death [for her] excellent smooth translation." —Ewa Sherman, Nordic Lighthouse

"Letting Karin Smirnoff pick up the baton after David Lagercrantz is a stroke of genius. It is hard to believe anyone could have done it better than Smirnoff." —Upsala Nya Tidning
 
"Smirnoff has created an absolutely brilliant continuation of the series: exciting plot, plenty of action, and a sensitive portrayal of complicated relationships—where the new character Svala is one of the highlights. Welcome back, Salander!" —Femina
 
"The Girl in the Eagle's Talons is a really, really good crime novel. It is also a serious and successful attempt to keep Stieg Larsson's commitment alive and let fiction speak profound truths about our time . . . Larsson's original trilogy featured a strong feminist perspective: the theme of men's violence against women, and women who strike back, most notably Lisbeth Salander. Karin Smirnoff proves that she is exactly the right writer to inherit this mantle . . . The Girl in the Eagle's Talons works perfectly with what the series represents." —Skånska Dagbladet

"Deeply entertaining, exciting and incredible on a James Bond level . . . I devoured it." —Weekendavisen
 
"It is impossible to put the book down . . . The language is sharp, there is an undertone of dry and icy northern Swedish humor, Smirnoff writes vividly and imaginatively, the story is full of surprises." —Nordjyske

"We more than approve of Smirnoff's debut as a crime novelist . . . What impresses is the thrilling plot, the description of place, and above all the unexpected and, yes, poignant relationship between Lisbeth and Svala." —Svenska Dagbladet

"A new beginning that takes Stieg Larsson's beloved characters seriously." —Norrbottens-Kuriren

"Mikael Blomkvist and Lisbeth Salander are successfully back at work." —Jyllands-Posten