Guided Astrology Workbook: A Step-by-Step Guide for Deep Insight into Your Astrological Signs, Birth Chart, and Life (Guided Readings) (Paperback)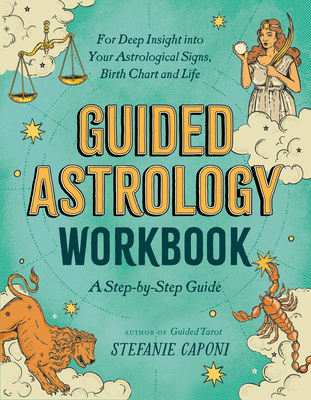 Description
---
Your essential workbook to unlock the wisdom of the stars and understand astrology and your birth chart.
Your birth chart is a snapshot of the positions of the planets at the moment you were born. It reveals your unique self: your gifts, your challenges, and your opportunities.
Guided Astrology Workbook
explains the essential facets of astrology and includes interactive exercises to help you break down the detailed information in your birth chart. Best-selling author Stefanie Caponi guides you step-by-step as you learn to interpret seemingly complex astrological information with ease. With the language of astrology and your birth chart as your roadmap, you'll understand the role of the stars in your personality, life, and relationships, so that you can live with greater insight and intuition—and achieve your highest potential.
Step-by-step guidance to help you expand your understanding of astrology as you learn to read and interpret birth charts.
Plot and read your birth chart as you work through each chapter, adding your sun signs, rising signs, moon signs, and more, to help you understand your personality and how you engage your inner and outer worlds.
Interactive exercises and reflection questions that help you to engage the zodiac wheel in a personal way and helps you understand the role of every placement.
Understand astrological patterns to add depth to your birth chart interpretation and make connections with other people's charts.
For astrologers of all skill levels to cultivate a better understanding of the role of the houses, planets, and aspects in our lives and relationships.
About the Author
---
Stefanie Caponi (she/her) is a Colorado-based astrologer, tarot reader, illustrator, and best-selling author of Guided Tarot and Guided Tarot for Teens. Her work is centered around exploring shadow work, healing, and creativity using tarot and astrology as a vehicle to access the hidden realms of the self. She has been reading tarot for more than 20 years, and established her business as a professional tarot reader after creating her first tarot deck, The Moon Void Tarot. She began studying astrology in 2017 and has been reading astrology professionally and writing monthly horoscopes for Dame, focusing on intimacy and relationships, since 2019. In addition to her work with tarot and astrology, she also illustrated the YA fiction series All Our Hidden Gifts by Caroline O'Donoghue. Stefanie is a frequent astrology expert in the media and has contributed her astro insights to Well&Good, The Everygirl, Refinery29.