While Justice Sleeps: A Thriller (Avery Keene #1) (Paperback)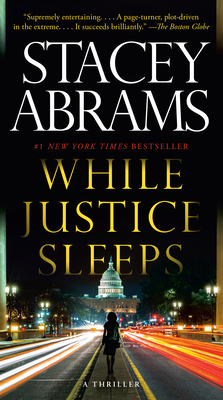 $9.99

NOT on our shelves - Usually Ships in 1-5 Days
Other Books in Series
This is book number 1 in the Avery Keene series.
May 2021 Indie Next List
---
"From the first pages, this crime novel from author/activist Stacey Abrams drew me into the world of the Supreme Court (and chess!) and the seedy underbelly of the U.S. government. This race through the streets of Washington, DC, also contains a deeply satisfying ending that I won't give away."
— Megan Birch-McMichael, The Silver Unicorn Bookstore, Acton, MA
Description
---
#1 NEW YORK TIMES BEST SELLER • A gripping, complexly plotted thriller set within the halls of the U.S. Supreme Court, where a young law clerk finds herself embroiled in a shocking mystery crafted by one of the most preeminent judges in America—from celebrated national leader and bestselling author Stacey Abrams.

"Abrams follows in Dan Brown's footprint with this masterfully plotted thriller that unfolds like the ultimate chess match—bold move to bolder move with lives hanging in the balance."—Lisa Gardner, author of Before She Disappeared

"A first-class legal thriller, favorably compared to many of the best, starting with The Pelican Brief, which it brings to mind. It's fast-paced and full of surprises—a terrific read."—Scott Turow, author of Presumed Innocent

Avery Keene, a brilliant young law clerk for the legendary Justice Howard Wynn, is doing her best to hold her life together—excelling in an arduous job with the court while also dealing with a troubled family. When the shocking news breaks that Justice Wynn—the cantankerous swing vote on many current high-profile cases—has slipped into a coma, Avery's life turns upside down. She is immediately notified that Justice Wynn has left instructions for her to serve as his legal guardian and power of attorney. Plunged into an explosive role she never anticipated, Avery finds that Justice Wynn had been secretly researching one of the most controversial cases before the court—a proposed merger between an American biotech company and an Indian genetics firm, which promises to unleash breathtaking results in the medical field. She also discovers that Wynn suspected a dangerously related conspiracy that infiltrates the highest power corridors of Washington.
 
As political wrangling ensues in Washington to potentially replace the ailing judge whose life and survival Avery controls, she begins to unravel a carefully constructed, chesslike sequence of clues left behind by Wynn. She comes to see that Wynn had a much more personal stake in the controversial case and realizes his complex puzzle will lead her directly into harm's way in order to find the truth. While Justice Sleeps is a cunningly crafted, sophisticated novel, layered with myriad twists and a vibrant cast of characters. Drawing on her astute inside knowledge of the court and political landscape, Stacey Abrams shows herself to be not only a force for good in politics and voter fairness but also a major new talent in suspense fiction.

Don't miss Stacey Abram's bestselling new book, Rogue Justice!
About the Author
---
STACEY ABRAMS is a New York Times bestselling author, entrepreneur and political leader. She served as Minority Leader in the Georgia House of Representatives, and she was the first black woman to become gubernatorial nominee for a major party in United States history. Abrams has launched multiple nonprofit organizations devoted to democracy protection, voting rights, and effective public policy. She has also co-founded successful companies, including a financial services firm, an energy and infrastructure consulting firm, and the media company, Sage Works Productions, Inc.
Praise For…
---
"Supremely entertaining...A page-turner, plot-driven in the extreme...It succeeds brilliantly."—The Boston Globe

"Stacey Abrams delivers a taut, twisty thriller, drawing the reader into the hallowed halls of the Supreme Court along the strands of a complex web of politics, raw ambition and deadly deception."—Nora Roberts, #1 New York Times bestselling author of Come Sundown

"While Justice Sleeps is a mesmerizing legal thriller that does the rare thing: It uses the novel to get at the truth. Stacey Abrams is a powerful new voice in fiction."—Michael Connelly, #1 New York Times bestselling author of the Harry Bosch series

"In While Justice Sleeps, Stacey Abrams firmly establishes herself as a powerful new player in the crime thriller space, with her heroine Avery providing a voice to women everywhere. Twisty, clever and full of surprises, this will be one to watch this Spring. Abrams proves she is not only a force for change in politics but a force to be reckoned with in fiction, too."—Karin Slaughter, New York Times bestselling author of Pretty Girls

"Glossy, gritty, breathlessly suspenseful, effortlessly authentic, and altogether wonderful. Why am I not surprised?"—Lee Child, New York Times bestselling author of the Jack Reacher series

"A political-legal thriller that should hold the reader rapt from its opening line . . . to the extraordinary climactic courtroom scene that turns the plot upside down with ironic flair and utter conviction."—Pittsburgh Post-Gazette

"Twisty good fun. . . . As the stakes rise, and murderous villains lurk, readers come to understand that horrific moral and ethical boundaries have been crossed. The unfolding morality tale, 'the labyrinthine game the law demanded,' plays out in the final fireworks scene at the Supreme Court. Abrams plays it to the hilt."—The Christian Science Monitor

"Abrams' debut is a pip of a thriller - a sweaty-palm sprint through the hidden corridors of government and the shadowy streets of DC.  I fervently hope she will write many more."—Kathy Reichs, author of the Temperance Brennan Bones series

"While Justice Sleeps is one of the best political thrillers I've read in years. It checks all the boxes: roller-coaster plot twists and turns, a fascinating look behind the scenes of the Supreme Court and other Washington institutions, nods to the latest trends in tech and medicine, and, most important of all, an utterly compelling main character, Supreme Court clerk Avery Keene. Author Abrams has given us a book that demands to be read in one sitting!"—Jeffery Deaver, author of The Bone Collector and Hunting Time

"A killer thriller. Loaded with legal intrigue, corrupt politicians, and the history of chess, Abrams proves why the most powerful piece on the board is the Queen. Well played and so much fun."—Brad Meltzer, #1 New York Times bestselling author of The Inner Circle

"While Justice Sleeps is a legal thriller of the highest order. Its crisp prose and high-octane plot call to mind the best of John Grisham, but Avery Keene is a fresh, modern heroine entirely of Abrams' own making. Abrams is now on my 'automatic pre-order' list of authors. An absolutely phenomenal read."—Cristina Alger, New York Times bestselling author of Girls Like Us

"When it comes to the law and the fight to save democracy, Stacey Abrams knows what she's talking about. While Justice Sleeps also proves that she knows how to craft a compelling and suspenseful mystery."—Mark Billingham, bestselling author of the Tom Thorne series

"[Abrams] displays her considerable talent for fiction in this gripping legal thriller. Shadowy figures....earth-shattering consequences....[a] deadly knot of deception....fiendishly intricate clues leading to a horrifying secret that implicates powerful and dangerous people. The buzz is loud and wholly deserved for this shrewd and exciting legal thriller by prominent voter-rights activist and best-selling Abrams."—Booklist (starred review)

"Abrams keeps the plot churning, concentrating on the myriad power plays that go on behind the scenes as she brings in greed, a controversial merger between a biotech and a genetics firm, and self-centered politicians."—The South Florida Sun Sentinel