Midnight (Paperback)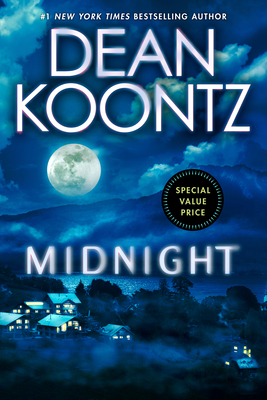 $12.00
Email or call for price.
Description
---
Dean Koontz, the bestselling master of suspense, invites you into the shocking world of Moonlight Cove—where four unlikely survivors confront the darkest realms of human nature.

The citizens of Moonlight Cove, California, are changing. Some are losing touch with their deepest emotions. Others are surrendering to their wildest urges. And the few who remain unchanged are absolutely terrified—if not brutally murdered in the dead of night...
About the Author
---
Dean Koontz, the author of many #1 New York Times bestsellers, lives in Southern California with his wife, Gerda, their golden retriever, Elsa, and the enduring spirit of their goldens, Trixie and Anna.
Praise For…
---
"A triumph."—The New York Times

"Blood-chilling...The eerie mood of this creepy, crawly novel is vividly etched…gripping."—Los Angeles Times

"A monster hit...In his own masterful way, Koontz slowly unveils the escalating horror...breathtaking."—Dallas Morning News

"Fresh and exciting. Well-drawn, likable characters. Required reading for all thriller fans."—Boston Herald
 
"Koontz is a prose stylist whose lyricism heightens malevolence and tension."—Seattle Times

More Praise for Dean Koontz

"Dean Koontz is a prose stylist whose lyricism heightens malevolence and tension. [He creates] characters of unusual richness and depth."—The Seattle Times

"Tumbling, hallucinogenic prose....'Serious' writers...might do well to examine his technique."—The New York Times Book Review

"Lyrical writing and compelling characters...Koontz stands alone."—Associated Press

"In every industry there exist 'artists' that are not only unforgettable, but know their craft better than the rest. Dean Koontz...is among these artisans."—Suspense Magazine

"[Koontz] has always had near-Dickensian powers of description, and an ability to yank us from one page to the next that few novelists can match."—Los Angeles Times

"Perhaps more than any other author, Koontz writes fiction perfectly suited to the mood of America...novels that acknowledge the reality and tenacity of evil but also the power of good...[and that] entertain vastly as they uplift."—Publishers Weekly