Tom Clancy Flash Point (A Jack Ryan Jr. Novel #10) (Hardcover)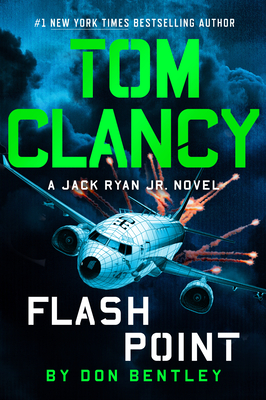 Other Books in Series
This is book number 10 in the A Jack Ryan Jr. Novel series.
Description
---
If there's one thing Jack Ryan, Jr's father taught him, it's that freedom isn't free, but nothing can prepare Jack for the price he must pay in the latest electrifying entry in the #1 New York Times bestselling series.

Jack Ryan Jr. is in a world of trouble. When a benign surveillance operation takes a deadly turn, Jack finds himself locked in a struggle with an unseen enemy bent on destroying the Campus. The chase leads Jack to the South China Sea where a midair collision between aircraft from rival nations threatens to serve as a flash point for the entire region. As Jack frantically tries to put the pieces of the conspiracy together, the Campus is hit with a crippling attack. When the dust settles, Jack is one of the few operators still standing and the Campus's de facto leader. But the fight is just beginning.

As tensions escalate, Jack's mysterious adversary executes a brilliant campaign to paralyze the American government even as China inches closer to invading Taiwan. With the odds stacked against him and no help in sight, Jack and his shattered team must stop the world's two remaining super powers from stumbling into war even as the noose around the Campus grows ever tighter.
Every operation has a cost.

This time the bill might just be too much to pay.
About the Author
---
Thirty-five years ago Tom Clancy was a Maryland insurance broker with a passion for naval history. Years before, he had been an English major at Baltimore's Loyola College and had always dreamed of writing a novel. His first effort, The Hunt for Red October, sold briskly as a result of rave reviews, then catapulted onto the New York Times bestseller list after President Reagan pronounced it "the perfect yarn." From that day forward, Clancy established himself as an undisputed master at blending exceptional realism and authenticity, intricate plotting, and razor-sharp suspense. He passed away in October 2013.

Don Bentley is the New York Times bestselling author of the Matt Drake series (Forgotten War, Hostile Intent, The Outside Man, Without Sanction) and three Tom Clancy novels. Bentley spent a decade as an Army Apache helicopter pilot and deployed to Afghanistan as an Air Cavalry Troop Commander. Following his time in the military, Bentley worked as an FBI special agent and was a SWAT team member. Bentley is also a graduate of the Seton Hill University Writing Popular Fiction MFA program. He resides in Austin, Texas with his family. Learn more at www.donbentleybooks.com.
Praise For…
---
Praise for Tom Clancy Zero Hour

"[Bentley] delivers a breathtaking adventure... the most talented author to touch the Ryanverse since Mark Greaney."--The Real Book Spy (featured review)

"Edge-of-the-seat excitement... A fast-moving thrill ride sure to satisfy Tom Clancy fans."--BookTrib

"More than enough deadly action to satisfy any military adventure fan."--Publishers Weekly