Trust (Pulitzer Prize Winner) (Paperback)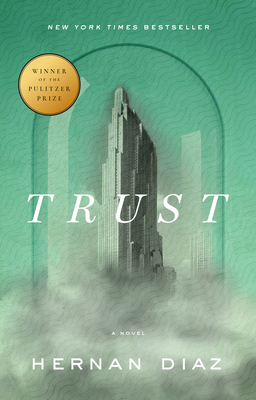 May 2022 Indie Next List
---
"Hernan Diaz does things I've never seen in a novel before. Trust ties up threads of money and art, family and history, lies and truth. Think historical fiction turned meta, with a beating heart and spectacular writing."
— Mark Haber, Brazos Bookstore, Houston, TX
Description
---
WINNER OF THE PULITZER PRIZE FOR FICTION

A NEW YORK TIMES BESTSELLER

ONE OF THE NEW YORK TIMES TOP TEN BOOKS OF 2022
ONE OF BARACK OBAMA'S FAVORITE BOOKS OF 2022
LONGLISTED FOR THE 2022 BOOKER PRIZE

"Buzzy and enthralling …A glorious novel about empires and erasures, husbands and wives, staggering fortunes and unspeakable misery…Fun as hell to read." —Oprah Daily

"A genre-bending, time-skipping story about New York City's elite in the roaring '20s and Great Depression."—Vanity Fair

"A riveting story of class, capitalism, and greed." —Esquire

"Exhilarating." —New York Times

Even through the roar and effervescence of the 1920s, everyone in New York has heard of Benjamin and Helen Rask. He is a legendary Wall Street tycoon; she is the daughter of eccentric aristocrats. Together, they have risen to the very top of a world of seemingly endless wealth—all as a decade of excess and speculation draws to an end. But at what cost have they acquired their immense fortune? This is the mystery at the center of Bonds, a successful 1937 novel that all of New York seems to have read. Yet there are other versions of this tale of privilege and deceit.
    Hernan Diaz's TRUST elegantly puts these competing narratives into conversation with one another—and in tension with the perspective of one woman bent on disentangling fact from fiction. The result is a novel that spans over a century and becomes more exhilarating with each new revelation.
    At once an immersive story and a brilliant literary puzzle, TRUST engages the reader in a quest for the truth while confronting the deceptions that often live at the heart of personal relationships, the reality-warping force of capital, and the ease with which power can manipulate facts.
About the Author
---
Hernan Diaz is the Pulitzer Prize-winning and New York Times bestselling author of Trust. Translated into more than thirty languages, Trust also received the Kirkus Prize, was longlisted for the Booker Prize, and was named one of the 10 Best Books of the Year by The New York Times, The Washington Post, NPR, and Time magazine, and it was one of The New Yorker's 12 Essential Reads of the Year and one of Barack Obama's favorite books of the year. Trust is currently being developed as a limited series for HBO. Diaz's previous novel, In the Distance, was a finalist for the Pulitzer Prize and the PEN/Faulkner Award, and it won the William Saroyan International Prize. His work has appeared in The Paris Review, Granta, The Atlantic, Harper's, McSweeney's, and elsewhere. He has received the John Updike Award from the American Academy of Arts and Letters, a Guggenheim Fellowship, a Whiting Award, and a fellowship from the New York Public Library's Cullman Center for Scholars and Writers.
Praise For…
---
Praise for Trust:

"Intricate, cunning and consistently surprising…Much of the novel's pleasure derives from its unpredictabiility...Add Henry James to Wharton, and Thomas Mann too...Exhilarating and intelligent novel." —New York Times

"Luminous… Masterful… The drama lies in trying to puzzle out where Diaz will take you next, what's been hidden, and why."—The New Yorker

"A rip-roaring, razor-sharp dissection of capitalism, class, greed, and the meaning of money itself that also manages to be a dazzling feat of storytelling on its own terms… Important and timely. But the uniquely brilliant way in which Diaz tells that story, as meticulously researched as it is narratively exhilarating, makes it a novel not just for the present age but for the ages."—Vogue

"[A] riveting story of class, capitalism, and greed. The result is a mesmerizing metafictional alchemy of grand scope and even grander accomplishment."—Esquire

"There is a dazzling intelligence behind this novel, which challenges us to rethink everything we know both about the institutions on which nations are built and the narratives by which stories are told. Sly, sophisticated, insistently questioning, Diaz writes with assurance, determined to rob us of every certainty."—the Booker Prizes

"Literary fiction…is a fantastic commodity in which our best writers become criminals of the imagination, stealing our attention and our very desires. Diaz makes an artistic fortune in Trust. And we readers make out like bandits, too."—Maureen Corrigan, NPR

"A buzzy and enthralling tour de force… a glorious novel about empires and erasures, husbands and wives, staggering fortunes and unspeakable misery…Mostly, though, Trust is a literary page-turner, with a wealth of puns and elegant prose, fun as hell to read."—Oprah Daily

"A remarkably accessible treatise on the power of fiction. This unquestionably smart and sophisticated novel not only mirrors truth, but helps us to better understand it."—The Boston Globe

"Ingenious...challenges conventional story lines of another favorite American theme: capitalism and the accumulation of vast wealth…Diaz employs his inventive structure to offer intriguing insights into the hidden roles played by subservient women." —Minneapolis Star Tribune

"The world of Trust feels very close to our own...This book is a reminder that wealth isn't a treasure chest and the rich aren't magical, no matter how dramatically they shape the world. It's all just money, made by real people, with very real, often dangerous implications." —Vanity Fair

"Rich and prismatic…" —Wall Street Journal

 "The only certainty here is Diaz's brilliance and the value of his rewarding book…In execution it's an elegant, irresistible puzzle."—The Washington Post

"Wondrous… Diaz is brilliant at dissecting literary conventions and transforming them into something new." —The New York Review of Books

"Through perfectly formed sentences and the skilful unpicking of certainties, Trust creates a great portrait of New York across an entire century of change . . . a work possessed of real power and purpose . . . It's a testament to Diaz's cunning abilities as a writer that you end his book thinking that— if truth is your goal —you might be better off relying on a novelist than a banker."—Jonathan Lee, The Guardian (UK)
 
"Sharp and affecting . . . Diaz's great subject is the scale of American mythmaking . . . It is in his ugly-beautiful portrait of great wealth that Diaz shows his brilliance . . . In this literary Rubik's Cube, Diaz provides a viable, and hugely entertaining, argument that once a pen is put to paper an element of veracity is always lost. And when money is thrown into the mix, then the lies really multiply."—Financial Times (UK)

"An absolutely brilliant novel… A wily jackalope of a novel — tame but prickly, a different beast from every angle…The setup is so shrewd and the writing so immaculate." —Los Angeles Times

"Hernan Diaz, one of the least derivative, most eccentrically ambitious fiction writers I've read in a long while." —Jonathan Dee in Harper's Magazine

"Trust proves that Diaz is a writer of singular talent. This book is a kaleidoscopic dazzler that works as both an engrossing literary mystery and a capitalistic takedown for the ages. Don't miss it."—Chicago Review of Books

"A multifaceted saga of class, wealth, and mythmaking that should resonate with today's capitalism-questioning readers."—The Philadelphia Inquirer

"A uniquely layered novel…Each page peels back another mystery, making for an utterly riveting read." —Buzzfeed

"Like a tower of gifts waiting to be unwrapped, Trust offers a multitude of rewards to be discovered and enjoyed …  [a] beautifully composed masterpiece."—BookPage, STARRED review
 
"For all its elegant complexity and brilliant construction, Diaz's novel is compulsively readable, and despite taking place in the early 1900s, the plot reads like an indictment of the start of the twenty-first century with its obsession with obscure financial instruments and unhinged capital accumulation. A captivating tour de force that will astound readers with its formal invention and contemporary relevance."—Booklist, STARRED review

"[A] kaleidoscope of capitalism run amok in the early 20th century . . . Grounded in history and formally ambitious, this succeeds on all fronts. Once again, Diaz makes the most of his formidable gifts."—Publishers Weekly, STARRED Review

"A feat of literary gamesmanship [that] brilliantly weaves its multiple perspectives to create a symphony of emotional effects . . . [T]he collection of palimpsests makes for a thrilling experience ...A clever and affecting high-concept novel of high finance."—Kirkus, STARRED review

"Hernan Diaz is a narrative genius whose work easily encompasses both a grand scope and the crisp and whiplike line. Trust builds its world and characters with subtle aplomb. What a radiant, profound and moving novel."—Lauren Groff, New York Times bestselling author of Matrix
 
"Diaz understands, and deeply, how strange money is, as an omnipotent and imaginary substance that controls our lives. Trust glints with wonder and knowledge and mystery. Its plotlines are as etched and surreal as Art Deco geometry, while inside that architecture are people who feel appallingly real. This novel is very classical and very original: Balzac would be proud, but so would Borges."—Rachel Kushner, New York Times bestselling author of The Mars Room

"That rare jewel of a book—jaw-dropping storytelling against the backdrop of beautiful writing. Amidst all the noise in the world, whole days found me curled up on the couch, lost inside Diaz's brilliance."—Jacqueline Woodson, National Book Award-winning author of Red at the Bone

"Though set in a historical New York, Trust speaks to matters of the most urgent significance to the present day. Money, power, class, marital and filial relations, the roles played by trust and betrayal in human affairs—Diaz's development of his chosen themes is deeply insightful. Cleverly constructed and rich in surprises, this splendid novel offers serious ideas and serious pleasures on every beautifully composed page." —Sigrid Nunez, National Book Award–winning author of The Friend

"Sublime, richly layered novel. A story within a story within a story. Elegantly written."—Roxane Gay, bestselling author of Difficult Women
 
"The audacity and scope of Hernan Diaz's extraordinary novel—a prism, a mystery, a revelation—are brilliantly matched by the quality of his prose."—Jean Strouse, author of Morgan: American Financier
 
"What a joy this is to read, suspenseful at every turn, the work of a rare and impressive talent. Diaz has once again taken apart an American myth and pondered how we lie to ourselves."—Joan Silber, National Book Critics Circle Award–winning author of Improvement