The Art of Destiny: A Novel (The War Arts Saga #2) (Hardcover)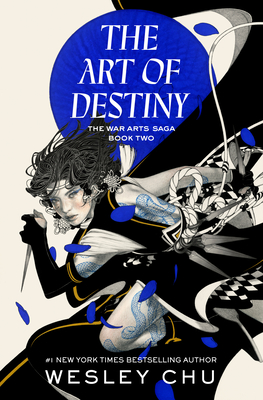 $29.99

Coming Soon - Available for Pre-Order Now
Other Books in Series
This is book number 2 in the The War Arts Saga series.
Description
---
A hero once believed to be the chosen one must find a new path with the help of a band of unlikely allies in the sequel to The Art of Prophecy, an epic fantasy ode to martial arts and magic from the #1 New York Times bestselling author Wesley Chu.

Once there was a prophecy that a chosen one would rise to defeat the Eternal Khan, an immortal god-king. 

But the prophecy was wrong. 

Now Jian, the former chosen hero, is just an ordinary young man trying to find his own way. But he may yet have an extraordinary destiny, because he joins forces with Taishi, his grumpy grandmaster, who instructs him in the ways of her family's powerful war art. Jian still has a long way to go before he can become her heir, so she recruits a band of elderly grandmasters who come out of retirement to whip him into shape and help with this one last job.

And there are others who are also seeking their own destiny, like Qisami, an assassin on a secret mission to protect a powerful noblewoman from her enemies. But as Qisami goes undercover to complete her mission, she takes on a new identity that gives her something she never had before: friendship, found family, and new purpose.

Sali also thought her fate was laid before her. She was supposed to be looking for the next Eternal Khan and now finds her clan exiled from everything she's ever known. As she leads the survivors in search of a new home, Sali discovers that she's something she never thought she could be: a leader and a revolutionary.

Because sometimes destiny is grander than any prophecy can foresee. And the greatest destiny of all is the one you choose for yourself.
About the Author
---
Wesley Chu is the #1 New York Times bestselling author of thirteen novels, including The Art of Prophecy, Time Salvager, The Rise of Io, and The Walking Dead: Typhoon. He won the Astounding Award for Best New Writer, and his debut, The Lives of Tao, won the Young Adult Library Services Association's Alex Award. An accomplished martial artist and a former member of the Screen Actors Guild, Chu he has acted in film and television, worked as a model and stuntman, and summited Kilimanjaro. Wesley Chu lives in Los Angeles with his wife, Paula, and their two boys, Hunter and River.
Praise For…
---
Praise for The Art of Prophecy

"[The Art of Prophecy] is squarely directed at kung fu, wuxia, and wire-fu fans who adore Crouching Tiger, Hidden Dragon; Hero; The Legend of Drunken Master; Kung Fu Hustle, and the like, providing a story with an epic sweep punctuated with dashes of humor and sharp-edged banter. . . . Dramatic, fun, thoughtful, clever, and (literally) punchy."—Kirkus Reviews (starred review)

"The Art of Prophecy is an ambitious and touching exploration of disillusionment in faith, tradition, and family, but it's also unexpectedly funny. I loved following Wesley Chu's intricate narrative through this sprawling universe full of glorious reinvention of fantasy and wuxia tropes."—Naomi Novik

"In this superb fantasy saga of tough old martial-arts masters and inexperienced young heroes, Wesley Chu has given us a richly inventive page-turner that delights throughout. The Art of Prophecy is Wesley Chu at the height of his imaginative powers, and I can't wait for the next installment!"—Helene Wecker

"Electrifying, thrilling, and a glorious, romantic ride, The Art of Prophecy is a true delight. Readers won't be able to put it down."—Robert Jackson Bennett

"The Art of Prophecy is a terrific and compelling story that plays off so many classic tales taken from our own world and reinvents them all in classic fashion."—Terry Brooks

"Come for the awesome fight choreography, stay for the sly wit, the worldbuilding, and a fresh and unexpected take on the hero's journey!"—Jacqueline Carey

"A whirlwind tale rich with politics and fantastical martial arts . . . Chu tells a refreshing coming-of-age story with a 'chosen one' who faces real challenges to become a hero."—Robin Hobb

"In The Art of Prophecy, Wesley Chu writes like a master war artist. The War Arts Saga introduces a lavish world of martial arts that transcends into the mystical, just as this grandiose epic fantasy adventure transcends the page and comes alive in your mind."—Peter V. Brett