Survive the Night: A Novel (Hardcover)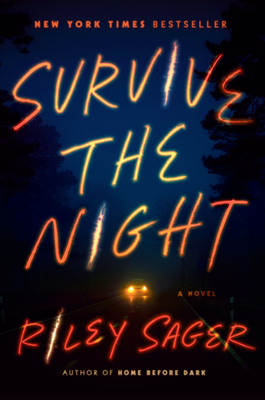 $27.00
Email or call for price.
Description
---
THE INSTANT NEW YORK TIMES BESTSELLER

One of New York Times Book Review's "summer reads guaranteed to make your heart thump and your skin crawl"; An Amazon Best of the Month Pick; Named a must-read summer book by The Washington Post, USA Today, Vulture, BuzzFeed, Forbes, Entertainment Weekly, CNN, New York Post, Good Housekeeping, E!, PopSugar, CrimeReads, Thrillist, and BookRiot. 

It's November 1991. Nirvana's in the tape deck, George H. W. Bush is in the White House, and movie-obsessed college student Charlie Jordan is in a car with a man who might be a serial killer.

Josh Baxter, the man behind the wheel, is a virtual stranger to Charlie. They met at the campus ride board, each looking to share the long drive home to Ohio. Both have good reasons for wanting to get away. For Charlie, it's guilt and grief over the shocking murder of her best friend, who became the third victim of the man known as the Campus Killer. For Josh, it's to help care for his sick father—or so he says.
 
The longer she sits in the passenger seat, the more Charlie notices there's something suspicious about Josh, from the holes in his story about his father to how he doesn't want her to see inside the trunk. As they travel an empty, twisty highway in the dead of night, an increasingly anxious Charlie begins to think she's sharing a car with the Campus Killer. Is Josh truly dangerous? Or is Charlie's jittery mistrust merely a figment of her movie-fueled imagination?
 
One thing is certain—Charlie has nowhere to run and no way to call for help. Trapped in a terrifying game of cat and mouse played out on pitch-black roads and in neon-lit parking lots, Charlie knows the only way to win is to survive the night.
About the Author
---
Riley Sager is the New York Times bestselling author of seven novels, most recently The Only One Left and The House Across the Lake. A native of Pennsylvania, he now lives in Princeton, New Jersey.
Praise For…
---
"This tale almost reads as an allegory for the lofty demands set upon women, particularly during the young adult years, albeit with an R.L. Stine 'Fear Street' feel, mixed with Hitchcockian noir and all the top music numbers of the nineties.... And it wouldn't be a Sager novel without an ode to films woven throughout, plus multiple twists along the way....The novel satisfies like a summer blockbuster, nearly demands you stay until the final scenes and the lights come up."
—USA Today
                                                     
"A fast-paced, twisty thriller....A first-rate read....But then, with four final pages, Sager reveals a final surprise that is stunning yet somehow feels exactly right."
—Associated Press

"With every mile, the tension rises toward a deliciously unbearable pitch."
—Good Housekeeping

"Nineties-era nostalgia (Nirvana, pay phones, cassettetapes) paves the way for a truly haunting potential kidnapping story."
—Entertainment Weekly

"If a scary, creepy, don't-turn-out-the-lights thriller is on your summer reading agenda, who better to turn to than Sager?"
—CNN

"Riley Sager's ability to create suspense is truly impressive."
—Zibby Owens, Katie Couric Media
 
"I couldn't put down Survive the Night and I didn't want to try. Riley Sager's terrific heroine Charlie Jordan starts this thriller on the ride of her life and the action accelerates on every page, through twists and turns into the darkness. A high-octane narrative fueled by intensity, emotion, and danger, Survive the Night puts Riley Sager in the driver's seat of modern crime fiction."
—Lisa Scottoline, #1 bestselling author of What Happened to the Bennetts
 
"Noir at its best! This one-sitting-read of a thriller will grab you in the opening pages and simply not let go until the very (and very shocking) end. Author Sager is a master of creating both psychological suspense and richly drawn characters, both good, bad and somewhere in the middle. Bravo!"
—Jeffery Deaver, author of The Final Twist

"Riley Sager's premise is bone-chilling—what if you caught a ride from a guy who could be a serial killer?—and his writing is propulsive and gripping. Woven throughout is a clever nod to classic movies, which adds to the intricate architecture of this absolutely terrific book."
—Sarah Pekkanen, #1 New York Times bestselling co-author of You Are Not Alone

"The perfect summer binge!"
—J.D. Barker, New York Times bestselling author of A Caller's Game

"Sager excels at playing with reader expectations and in concocting plausible, gut-wrenching twists."
—Publishers Weekly, starred review

"[Sager's novels are] all creepily atmospheric, easy to read without being fluffy, and fun as hell. Each book has also been better and more confident than the last."
—Vulture, "46 Books We Can't Wait to Read in 2021"

"Sager's signature blend of campy homage and tense thrills is on full display in his new story of suspicion and doubt at 60 miles an hour."
—CrimeReads "Most Anticipated Crime Books of 2021: Summer Reading Edition"

"Seatbelt mandatory! Like hurtling down a twisty road, Survive the Night is a heart-pounding ride that will keep you guessing at every dizzying turn. Ingenious, surprising, and so much fun."
—Taylor Adams, author of No Exit

"Compulsively readable, pulse-poundingly tense with ingenious, gasp-worthy twists, Survive the Night is Hitchcockian film noir magic wrapped inside one of Sager's signature propulsive plots. A story about a ride share gone terribly wrong, this white-knuckle thriller kidnapped me and held me hostage as I raced through to its deliciously satisfying climax."
—May Cobb, author of The Hunting Wives

"Sager has been turning out one fine thriller after another since Final Girls, his 2017 breakout novel, and this one just might be his best yet. It's certainly his most complex."
—Booklist

"All of Riley Sager's books take an established horror or thriller trope and give it a smart, knowing twist. This time, it's a creepy hitchhiking situation (with the added bonus of a '90s setting!)."
—BookPage, "2021 Preview: most anticipated mysteries & thrillers"

"A love letter to final girls and badass cinematic heroines, Sager's new tale ripples with taut pacing, nail-biting tension, and a series of twists that will leave you whiplashed. I devoured this book."
—Erin A. Craig, New York Times bestselling author of House of Salt and Sorrows
 
"If you've read any Riley Sager books in the past then you know there are bound to be twists in this story that you won't see coming no matter how hard you try, and Survive the Night is filled with them. Another killer book (pun definitely intended!). I couldn't put this down; it may be Sager's best one yet."
—Suspense Magazine

"Riley Sager's scintillating Survive the Night reads like Die Hard in a car."
—The Providence Journal, "August Must-Read Thrillers"

"Sager's books are always a thrilling treat, and this is absolutely no exception." 
—The Parkersburg News and Sentinel

"Sager constantly keeps the reader off-kilter with clever twists and turns that are as terrifying as they are believable, while blurring the line between Charlie's experiences and her fantasies."
—South Florida Sun-Sentinel

"The action at which we finally arrive makes the long, strange trip more than worthwhile."
—The St. Louis Post-Dispatch

"Like Charlie, readers will find themselves distrusting their own perceptions as the book navigates an ever-windier route through a dark and dangerous landscape."
—Bookreporter

"Sager is at the absolute height of his powers…The paranoia dripping from every page is palpable, making for a compulsive read."
—Murder & Mayhem

"The best way to cool down during the hot summer months? Thrills and chills! Riley Sager is delivering both in his new novel."
—Bookish

"Riley Sager delivers an utterly convincing, genuinely engrossing story." 
—Mystery Scene Magazine

"Sager's tight focus on the pair as they plow through the night, stopping at lonely diners and gas stations that could be escape routes for Charlie, cranks up the stress level to 11. Gen X readers with fond memories of phone booths, analog message boards, and Nirvana will be especially taken with this nerved-up, noir-ish road trip into the past."
—Air Mail