Search for Books
ABA Mobile Menu
Reagan's Secret War: The Untold Story of His Fight to Save the World from Nuclear Disaster (Paperback)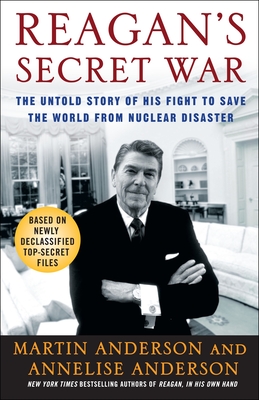 $20.00
NOT on our shelves - Usually Ships in 1-5 Days
Description
---
On February 6, 1981, at his first National Security Council meeting, Ronald Reagan told his advisers: "I will make the decisions." As Reagan's Secret War reveals, these words provide the touchstone for understanding the extraordinary accomplishments of the Reagan administration, including the decisive events that led to the end of the Cold War.

In penning this book, New York Times bestselling authors Martin Anderson and Annelise Anderson drew upon their unprecedented access to more than eight million highly classified documents housed within the Ronald Reagan Presidential Library in Simi Valley, California—unseen by the public until now. Using his top secret clearances, Martin Anderson was able to access Ronald Reagan's most privileged exchanges with subordinates and world leaders as well as the tactical record of how Reagan fought to win the Cold War and control nuclear weapons.

The most revelatory of these documents are the minutes of Reagan-chaired National Security Council meetings, the dozens of secret letters sent by Reagan to world leaders, and the eyewitness notes from Reagan-Gorbachev summits. Along with these findings, the authors use Reagan's speeches, radio addresses, personal diaries, and other correspondence to develop a striking picture of a man whose incisive intelligence, uncanny instincts, and quiet self-confidence changed the course of history.

What emerges from this treasure trove of material is irrefutable evidence that Reagan intended from his first days in office to bring down the Soviet Union, that he considered eliminating nuclear weapons his paramount objective, and that he—not his subordinates—was the principal architect of the policies that ultimately brought the Soviets to the nuclear-arms negotiating table. The authors also affirm that many of Reagan's ideas, including his controversial "Star Wars" missile-defense initiative, proved essential in dissolving the Soviet Union and keeping America safe.

Riveting and eye-opening, Reagan's Secret War provides a front-row seat to history, a journey into the political mind of a remarkable leader, and proof that one man can, through the force of his deep convictions, bring about sweeping global change.
About the Author
---
MARTIN ANDERSON and ANNELISE ANDERSON, husband and wife, are coauthors of the New York Times bestsellers Reagan, In His Own Hand; Reagan: A Life in Letters; and Reagan's Path to Victory. Both are Fellows at the Hoover Institution. Martin, an M.I.T. Ph.D., worked in the Reagan White House as an economic policy adviser and, more recently, sat on the Pentagon's defense-policy board. Annelise, a Columbia Ph.D., was a senior policy adviser to the Reagan presidential campaign and was an associate director within Reagan's Office of Management and Budget, where she was responsible for the budgets of five Cabinet departments and more than forty other agencies.
Praise For…
---
"Reagan's Secret War may change forever the image held by many. . . . With unprecedented access to his private papers, including his personal diary, the Andersons present a deeply involved and adroit leader."
—Henry A. Kissinger

"Artfully and accurately explains how, when, and where . . . All who are interested in the elimination of nuclear weapons should read Reagan's Secret War."
—James A. Baker III, 61st U.S. Secretary of State

"An immense contribution . . . the authors have defied assumptions about what Reagan thought and said and conducted painstaking research to get at the truth of what he really planned and executed. All of us who are gripped by the transcendent importance of the nuclear threat will learn, and be inspired, by this account."
—from the Foreword by George P. Shultz, former Secretary of State

"Ronald Reagan' s steadfast commitment to abolish all nuclear weapons is brought to life in Martin and Annelise Anderson's captivating narrative. . . . If the world makes it to the nuclear-free mountaintop, we will have President Reagan to thank for inspiring our climb."
—Sam Nunn, former Senator, cochairman, Nuclear Threat Initiative

"Superb . . . The authors' unique access to previously classified materials and to the president' s personal documents enabled them to write the most complete and accurate account of this historic effort."
—Ed Meese, former U.S. Attorney General

"Compelling . . . a valuable contribution to understanding the Reagan legacy."
—Lou Cannon, author of President Reagan: The Role of a Lifetime