DK Eyewitness Greek Islands (Travel Guide) (Paperback)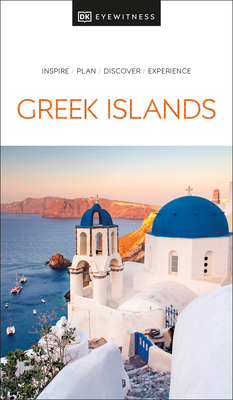 Description
---
Whether you want to follow in the footsteps of legendary figures at the Minoan palace, swim in the turquoise waters of idyllic Zakynthos bay, or watch the sun set over Corfu from Kaiser's throne, your DK Eyewitness travel guide makes sure you experience all that the Greek Islands have to offer.

The perfect escape, the Greek Islands offer spectacular beaches, crystal-clear seas, and picturesque villages. Though the islands vary greatly in character, they all share delicious cuisine, hospitable locals, and views capable of stealing your breath away.

Our updated 2023 guide brings the Greek Islands to life, transporting you there like no other travel guide does with expert-led insights, trusted travel advice, detailed breakdowns of all the must-see sights, photographs on practically every page, and our hand-drawn illustrations which place you inside the region's iconic buildings and neighborhoods. DK Eyewitness Greek Islands is your ticket to the trip of a lifetime. 

Inside DK Eyewitness Greek Islands you will find: 

- A fully-illustrated top experiences guide: our expert pick of the Greek Islands' must-sees and hidden gems.
- Accessible itineraries to make the most out of each and every day.
- Expert advice: honest recommendations for getting around safely, when to visit each sight, what to do before you visit, and how to save time and money.
- Color-coded chapters to every part of the Greek Islands, from Athens to Crete, the Dodecanese to the Cyclades.
- Practical tips: the best places to eat, drink, shop and stay.
- Detailed maps and walks to help you navigate the region country easily and confidently .
- Covers: The Ionian Islands, The Argo-Saronic Islands, The Sporádes and Évvia, The Northeast Aegean Islands, The Dodecanese, The Cyclades, Crete, Athens

Want the best of the Greek Islands in your pocket? Try our DK Eyewitness Top 10 Greek Islands.
Only visiting Crete? Try our DK Eyewitness Top 10 Crete.

About DK Eyewitness: 

At DK Eyewitness, we believe in the power of discovery. We make it easy for you to explore your dream destinations. DK Eyewitness travel guides have been helping travelers to make the most of their breaks since 1993. Filled with expert advice, striking photography and detailed illustrations, our highly visual DK Eyewitness guides will get you closer to your next adventure. We publish guides to more than 200 destinations, from pocket-sized city guides to comprehensive country guides. Named Top Guidebook Series at the 2020 Wanderlust Reader Travel Awards, we know that wherever you go next, your DK Eyewitness travel guides are the perfect companion.