Water Always Wins: Thriving in an Age of Drought and Deluge (Hardcover)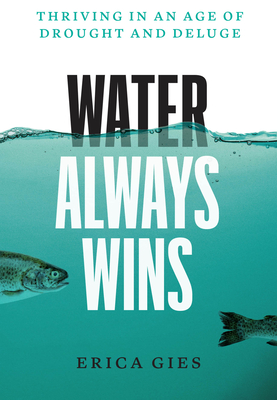 $26.00

NOT on our shelves - Usually Ships in 1-5 Days
Description
---
A hopeful journey around the world and across time, illuminating better ways to live with water. 

Nearly every human endeavor on the planet was conceived and constructed with a relatively stable climate in mind. But as new climate disasters remind us every day, our world is not stable—and it is changing in ways that expose the deep dysfunction of our relationship with water. Increasingly severe and frequent floods and droughts inevitably spur calls for higher levees, bigger drains, and longer aqueducts. But as we grapple with extreme weather, a hard truth is emerging: our development, including concrete infrastructure designed to control water, is actually exacerbating our problems. Because sooner or later, water always wins.

In this quietly radical book, science journalist Erica Gies introduces us to innovators in what she calls the Slow Water movement who start by asking a revolutionary question: What does water want? Using close observation, historical research, and cutting-edge science, these experts in hydrology, restoration ecology, engineering, and urban planning are already transforming our relationship with water. 

Modern civilizations tend to speed water away, erasing its slow phases on the land. Gies reminds us that water's true nature is to flex with the rhythms of the earth: the slow phases absorb floods, store water for droughts, and feed natural systems. Figuring out what water wants—and accommodating its desires within our human landscapes—is now a crucial survival strategy. By putting these new approaches to the test, innovators in the Slow Water movement are reshaping the future.
About the Author
---
Erica Gies is an award-winning independent journalist and National Geographic Explorer who writes about water, climate change, plants, and animals for Scientific American, the New York Times, Nature, the Atlantic, and other outlets. She cofounded two environmental news startups, Climate Confidential and This Week in Earth. She is based in San Francisco and Victoria, British Columbia. 
Praise For…
---
"Gies argues sensitively, knowledgeably and persuasively for our reinvestment in her 'Slow Water' techniques. She recognizes that this will 'require an attitude adjustment in the way we think about this vital compound, from commodity or industrial input to partner, friend, relative, life.' Ultimately we need to 'let water be water,' because 'control, as it turns out, is illusory.'"
— Times Literary Supplement
"A gripping investigation into water and the champion sleuths who research it and engage in daunting yet necessary efforts to restore health to a damaged planet. . . . Considering exploding populations, water inequality, and ever-increasing climate crises, Gies persuasively argues that much must and can be done to improve our understanding of and relationship with water."
— Booklist
"Vibrant.
. . .
 An inspiring, insightful book about the myriad ways that 'water detectives' are helping water to heal the planet."
— Foreword Reviews
"Gies takes readers on a global journey, highlighting researchers and engineers who 'share an openness to moving from a control mindset to one of respect,' and seek to support what she calls a 'Slow Water' movement. 'While Slow Water projects reduce the risk of floods and water scarcity and the subsequent anxiety those situations bring,' she writes, 'they are simultaneously creating more dynamic, diverse, enticing habitats for us.'"
— Undark
"Gies, an independent science journalist, argues that we humans have disrupted water's flows through rivers and coastal lands as well as its repose in aquifers and wetlands. . . . her diverse, research-based examples should prompt consideration of
slow water
solutions. . . . Highly recommended."
— Choice
"A fascinating look at the consequences of our attempts to control water in an age of climate instability. Whether we dam, divert, or concrete it over, from the California's Central Valley to Iraq's Mesopotamian Marshes, the results are the same: too much water where we don't want it, not nearly enough where it is needed. Gies makes a persuasive case that to preserve ourselves, we need to consider what water wants."
— Chicago Tribune
"The world got a reminder of the beauty and importance of going slowly with the advent of the Slow Food movement. . . . Although the concept of slow water hasn't achieved the same international recognition just yet, Gies explains why it can help us tackle our climate, water, and biodiversity crises."
— The Revelator
"For approximately a hundred years, our civilization has developed approaches to speed water away. Increasingly frequent and severe floods and droughts lead to higher levees, bigger drains, and longer aqueducts. We are beginning to learn, however, that increasing concrete infrastructure to control water is exacerbating the problem. Erica Gies's new book,
Water Always Wins
, focuses on the slow movement of water, essentially nature's way, to absorb floods, store water for droughts, and feed natural systems."
— Santa Barbara Independent
"No force of nature has more powerfully shaped the human adventure than water, for the obvious reason that we can't live without it. Much of what we call civilization has entailed civilizing this substance—mostly by hemming it in. In this sparkling, flowing, world-spanning narrative, Gies compellingly shows why water will always win in the end, particularly in an urbanizing world facing disruptive climate change. She also reveals, through guides ranging from China's 'sponge city' designers to beavers, how liberating water can liberate us, in turn."
— Andrew Revkin, former New York Times reporter and coauthor of The Human Planet
"
Water Always Wins
reveals the mysteries of water's journey from source to sea and shows how working with nature can help save us from the ravages of climate change. Through fascinating stories and detailed research, Gies challenges modern societies to relinquish some control and let water go where it wants to go. This eye-opening book is filled with brilliant insights, creativity, inspiration, and honest hope."
— Sandra Postel, winner of the 2021 Stockholm Water Prize and author of Replenish
"We've tried, in every way we know, to control and contain water on this planet. But there are limits to our power, which become clearer as escalating cycles of flooding and drought increasingly make a mockery of our efforts. As Gies ably demonstrates, the time has come to learn some lessons from liquid and start trying to live gracefully in our wonderfully aqueous world."
— Bill McKibben, author of The End of Nature
"From California's agricultural lands to the marshes of Iraq, from beavers to microinvertebrates, from early water cultures in India and Peru to today's water crises and the challenges of climate change, Gies uses her formidable reporting skills and personal experiences to weave together beautiful stories about water, its impact on our lives, and how it's long past time to repair our relationship with this most precious resource."
— Peter H. Gleick, founder, Pacific Institute
"In a world awash with water stress, Gies and the many people featured in her pages are leading the way to a future where people might live in a sustainable relationship with the element that sustains us all. It is entertaining, engaging, and applicable nearly everywhere in the world—every reader will find connections to their home communities here."
— Peter K. Brewitt, Wofford College
"In
Water Always Wins
, [Gies] outlines the complex ways the planet has dealt with water for millions of years, and she catalogues how humans have ignored that complexity when it has stood in the way of development... 
Water Always Wins
is a deeply unsettling book, because Gies is undoubtedly right that our hubris will have consequences."
— Literary Review of Canada
"This very important book offers hope as we confront the grim realities of a world being overtaken by global warming and climate change."
— American Scientist