Vanity Fair (Paperback)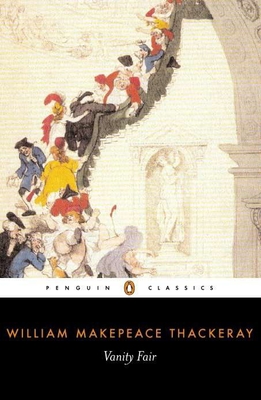 Description
---
William Makepeace Thackeray's classic tale of class, society, and corruption, soon to be an Amazon mini-series starring Olivia Cooke

No one is better equipped in the struggle for wealth and worldly success than the alluring and ruthless Becky Sharp, who defies her impoverished background to clamber up the class ladder. Her sentimental companion Amelia, however, longs only for caddish soldier George. As the two heroines make their way through the tawdry glamour of Regency society, battles—military and domestic—are fought, fortunes made and lost. The one steadfast and honourable figure in this corrupt world is Dobbin with his devotion to Amelia, bringing pathos and depth to Thackeray's gloriously satirical epic of love and social adventure.
About the Author
---
William Makepeace Thackeray (1811-1863) was born and educated to be a gentleman but gambled away much of his fortune while at Cambridge. He trained as a lawyer before turning to journalism. He was a regular contributor to periodicals and magazines and Vanity Fair was serialised in Punch in 1847-8. John Carey is Professor of English at Oxford University. He has written on Dickens and Thackeray.
Praise For…
---
"I do not say there is no character as well drawn in Shakespeare [as D'Artagnan]. I do say there is none that I love so wholly."
--Robert Louis Stevenson

"The lasting and universal popularity of The Three Musketeers shows that Dumas, by artlessly expressing his own nature in the persons of his heroes, was responding to that craving for action, strength and generosity which is a fact in all periods and all places."
--Andreé Maurois