Prom Mom: A Novel (Large Print / Paperback)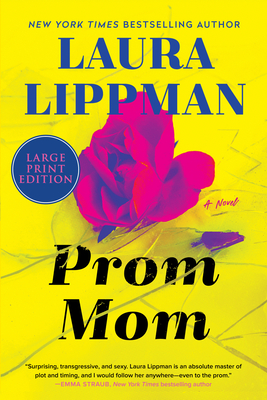 $34.00

NOT on our shelves - Usually Ships in 1-5 Days
Description
---
New York Times bestseller Laura Lippman tells the story of Amber Glass, desperately trying to get away from her tabloid past but compulsively drawn back to the city of her youth and the prom date who destroyed everything she was reaching for.  
Amber Glass has spent her entire adult life putting as much distance as possible between her and her hometown of Baltimore, where she fears she will forever be known as "Prom Mom"—the girl who allegedly killed her baby on the night of the prom after her date, Joe Simpson, abandoned her to pursue the girl he really liked. But when circumstances bring Amber back to the city, she realizes she can have a second chance—as long as she stays away from Joe, now a successful commercial real estate developer, married to a plastic surgeon, Meredith, to whom he is devoted. 
The problem is, Amber can't stay away from Joe. And Joe finds that it's increasingly hard for him to ignore Amber, if only because she remembers the boy he was and the man he said he was going to be. Against the surreal backdrop of 2020 and early 2021, the two are slowly drawn to each other and eventually cross the line they've been trying not to cross. 
And then Joe asks Amber to help him do the unthinkable . . . and she must decide if she is willing to let their toxic and dangerous past repeat itself.
About the Author
---
Since Laura Lippman's debut, she has been recognized as a distinctive voice in mystery fiction and named one of the "essential" crime writers of the last 100 years. Stephen King called her "special, even extraordinary," and Gillian Flynn wrote, "She is simply a brilliant novelist." Her books have won most of the major awards in her field and been translated into more than twenty-five languages. She lives in Baltimore and New Orleans with her teenager.
Praise For…
---
"Lippman, long recognized as a master of plot and exposition, has been serving up psychologically rich slices of karma for years. Prom Mom [is] one of her best books yet." — Wall Street Journal
"Prom Mom subverts the tabloid headline of its title into something more surprising, transgressive, and sexy. Laura Lippman is an absolute master of plot and timing, and I would follow her anywhere—even to the prom." — Emma Straub, New York Times bestselling author of This Time Tomorrow
"I read this acid-dipped beauty in 2 desperate sittings. Pure James M. Cain noir at its delirious best, it moves so fast and so skillfully, you don't fully grasp what it's really saying (about men, women, desire) until its final stunning pages." — Megan Abbott, New York Times bestselling author of The Turnout
"Passionate, provocative, deeply chilling and relentlessly paced, Prom Mom is, for my money, an instant classic. With a cast of characters real enough to leap off the page and haunt your dreams—especially my new hero, Amber Glass. A truly unforgettable read." — Alison Gaylin, USA Today and international bestselling author of The Collective
"The surprises, delivered close to Prom Mom's final pages, are the kind that might compel you to reread the whole story again, just to find out how Lippman layered this quadrangulate tale with clues and misdirection . . . . and how she managed to make such a classic form feel so of the moment. That formidable skill makes Prom Mom one of Lippman's most seductively mesmerizing novels, not just an homage to [James] Cain but a powerful successor." — Los Angeles Times
"Laura Lippman is a seasoned pro at crafting mysteries and crime fiction." — Time
"Prom Mom is all ominous mood and elegant nuance; you don't know where Lippman is going, but you'll happily follow." — The Seattle Times
"Laura Lippman delivers provocative novels about ordinary people caught up in chaos….Crime is central to the plot — these are mysteries, after all — but often it is hiding in the shadows, ready to leap out when least expected. Outstanding." — Florida Sun-Sentinel
"This exquisitely crafted tale of triangulation and treachery builds slowly to a shocking ending." — Library Journal (starred review)
"Buzz starts early for any new Lippman book, and this one already has the cicadas in high gear." — Booklist (starred review)
"Gripping... Lippman works up a slow burn, gently teasing out a game of cat and mouse between Joe and Amber that comes into full focus toward the end of the novel. Readers who persevere will reach a devilishly satisfying conclusion." — Publishers Weekly
"A character study of pedestrian evil in the Wegmans-and-Peloton class, fascinating in its heartlessness." — Kirkus Reviews
"Laura Lippman is one of the best novelists working today, period. Seeing her name on the cover of a book is a guarantee of a highly satisfying reading experience...Laura Lippman is a major writer. If you don't know her, there's 25 books waiting for you." — Chicago Tribune
"Lippman is such an incisive writer, slicing to the heart of people's darker sides….Piercingly insightful." — Guardian (UK)
"Mesmerizing . . . . I remain haunted by its mordant, rueful wisdom." — Irish Times
"Laura Lippman's incredibly layered and tense COVID-era thriller tells multiple stories about its main characters, a man and a woman whose pasts are linked by tragedy and tawdry gossip, and whose current lives are connected by something more powerful: the desire for a second chance." — CrimeReads
"Reading Laura Lippman is addictively satisfying….Prom Mom is another stunning example of her prowess in writing about the complexities of unhealthy relationships in this provocative, gripping novel." — BookTrib.com