The Death of Us: A Novel (Hardcover)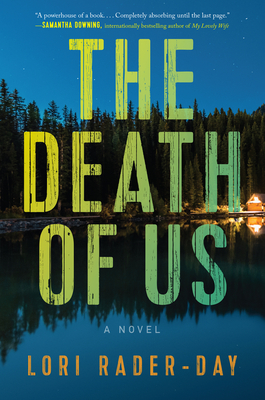 $30.00

NOT on our shelves - Usually Ships in 1-5 Days
Description
---
From the award-winning author of Death at Greenway and The Lucky One comes a chilling suspense novel in which the discovery of a submerged car in a murky pond reveals betrayals and family secrets that will tear a small town apart.
One rainy night fifteen years ago, a knock at the door changed Liss Kehoe's life forever.
On that night, Ashley Hay stood on Liss's front porch and handed over her brand-new baby Callan.
She was never seen or heard from again.
Since then, Liss has raised Callan as her own, and loves him as fiercely as any mother would. But in the back of her mind, she's always wondered whether Ashley is still out there somewhere—and feared what might happen if she comes back.
When Ashley does reappear, it's not in the way Liss expected. After all these years, Ashley's car has been found… in the quarry pond on Kehoe property. But the discovery of the car dredges up more questions than answers. What really happened on the night of Ashley's disappearance? Was it a tragic accident, or something far more sinister? Someone in town knows the truth, and they'll go to great lengths to keep it quiet.
As tensions rise in the small community, Liss must fight to protect her family and keep her own secrets hidden—or risk losing everything she loves.
About the Author
---
Lori Rader-Day is the Edgar Award–nominated and Anthony, Agatha, and Mary Higgins Clark Award–winning author of Death at Greenway, The Lucky One, Under a Dark Sky, The Day I Died, Little Pretty Things, and The Black Hour. She lives in Chicago, where she is cochair of the mystery readers' conference Midwest Mystery Conference and teaches creative writing at Northwestern University. She served as the national president of Sisters in Crime in 2020.
Praise For…
---
"Lori Rader-Day is a brilliant interrogator of complex characters and complex relationships. The Death of Us is rich and engrossing, a novel full of surprises that always ring true." — Lou Berney, Edgar Award-winning author of November Road
"I was up until 4:00am finishing The Death of Us. It's bloody brilliant. So sharp and tight and clear. I'm proud to have my name attached to it." — Ann Cleeves, New York Times bestselling author on The Death of Us
"Lori Rader-Day hits it out of the park with The Death of Us, which has everything I love in a suspense thriller: unreliable characters, family secrets and plenty of unexpected twists and turns. Atmospheric and unputdownable, this should be on everyone's to-read list." — Mary Kubica, New York Times bestselling author of Local Woman Missing
"The Death of Us is a powerhouse of a book. Set in a small town with emotional landmines on every corner, Lori Rader-Day has created characters that will stick with you. Completely absorbing to the last page."  — Samantha Downing, internationally bestselling author of My Lovely Wife
"Lori Rader-Day is a master of psychological suspense, and her talent shines in The Death of Us. This tale of dangerous secrets and family tensions sucked me right in and kept me reading late into the night." — Tess Gerritsen, New York Times bestselling author of The Spy Coast
"The Death of Us is an utterly mesmerizing and deeply moving novel about the meaning of family, the consequences of betrayal, and the power of love. Lori Rader-Day weaves a tight web, drawing us into a small town soaked in secrets and full of people willing to do almost anything to keep them. I stayed up half the night tearing through this deft, timeless mystery." — Julia Dahl, award-winning author of Invisible City and The Missing Hours
All of Lori's considerable gifts are on display in this riveting examination of a small town coming to terms with its secrets: The characters are indelible, the prose is dynamic, and the mystery will keep you up late into the night. Impeccably paced and genuinely surprising, The Death of Us is a small-town suspense novel of the highest order.  — Elizabeth Little, LA Times bestselling author of Dear Daughter and Pretty as a Picture
Lori Rader-Day's The Death of Us is a deftly crafted, winding road of family secrets, unsolved disappearance, murder, betrayal, and complicated lives caught in the crosshairs of suspicion and lies. Masterful. Riveting. What a ride! — Tracy Clark, author of the Cass Raines and Det. Harriet Foster series, and winner of the Sue Grafton Memorial Award
"Lori Rader-Day's The Death of Us [is] a suspenseful yarn about motherhood and a long-unsolved disappearance." — The Rap Sheet
"The Death of Us takes readers on a rollercoaster ride, leading to an unexpected culprit amid the many secrets and lies." — Novels Alive (five star review)
"[Rader-Day's] suspenseful family drama has good characterizations, with motivations readers will identify with and find believable, even as the tension escalates."  — Library Journal
"Irresistible... a Golden Age homage, an elegantly constructed mystery that on every page reinforces the message that everyone counts." — New York Times Book Review on Death at Greenway
"Chicago author Lori Rader-Day pays a fictional tribute to Christie in Death at Greenway, a suitably suspenseful novel in which World War II nurses tend to London-evacuated children at the absent mystery writer's holiday home; the owner's occupation takes on added significance when the corpse of a murder victim is found on a nearby beach." — Wall Street Journal
"Richly nuanced mystery . . . Rader-Day nicely evokes the isolation and dislocations of people in WWII Britain while revealing her characters' complexities. Despite the many allusions to Christie's life and work, she eschews an artificially neat conclusion. Fans of both Christie and Rader-Day will relish this." — Publishers Weekly (starred review) on Death at Greenway
"Two strangers with secrets, ten little children evacuated from London, and a stay at Agatha Christie's country house make for a deliciously compelling mystery. With its flawed, complex heroine, haunting evocation of wartime England, and a series of plot twists and breathtaking reveals, Rader-Day's newest is a triumph." — Susan Elia MacNeal, New York Times bestselling author, on Death at Greenway
"Death at Greenway is a book Lori Rader-Day was born to write. The characters are deeply moving, the suspense and World War II research are impeccable. The language, as is always the case with Rader-Day, is beautiful, but in Greenway, she shows her suppleness: her pitch-perfect dialogue brings England in the Blitz to life." — Sara Paretsky
"A gorgeous evocation of World War II England, a moving investigation of love and hope under trial, a twisty murder mystery that would have satisfied Dame Agatha herself—all proof that Lori Rader-Day's gifts translate to all eras. What a delicious book." —  Louis Bayard, author of The Pale Blue Eye on Death at Greenway
"Well-crafted and multi-layered, Death at Greenway is a vivid portrait of a woman trying to outrun her past in hopes of finding her place in a broken world." — Heather Gudenkauf, New York Times bestselling author
"A wonderfully atmospheric, beautifully written and entirely credible evocation of wartime Britain." — Ann Cleeves, internationally bestselling author of the Shetland and Vera series, on Death at Greenway
"One of crime fiction's strongest and most compelling voices." — Alex Segura, acclaimed author of Blackout on The Lucky One
"Rader-Day creates deeply believable, empathetic characters and puts the power in the hands of women." — Publishers Weekly on The Lucky One
"Lori Rader-Day's latest thriller transcends its clever premise." — Chicago Tribune on The Lucky One
"Another harrowing nightmare by a master of the sleepless night."  — Kirkus Reviews on The Lucky One
"I was riveted from page one by this complex, psychologically astute tale of betrayal and hope with twists that keep coming up until the final breathtaking reveal." — Hallie Ephron, New York Times bestselling author of Careful What You Wish For on The Lucky One
"There was a brief moment when I thought The Death of Us was going to be the death of me–in a good way! Disappearances, re-appearances, children with mysterious pasts, women when even more mysterious pasts… this novel will submerge you in secrets and twists until you can barely breathe."  — Crime Reads