The Night Watchman: A Novel (Paperback)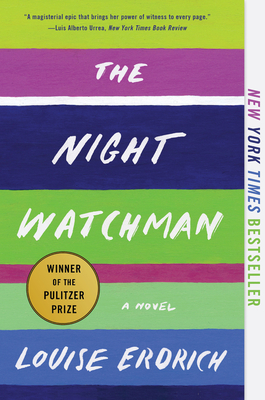 $18.00

On Our Shelves Now. Click on the title to see details.
Staff Reviews
---
Erdrich's beautiful writing reminds us that the Chippewa tribe based on her own family wants the same things out of live as we all do; to feel safe, be loved and have a bright future. They do not want to have to give up the religion and culture that defines them and separates them from the rest of their country. Theirs is a life of daily struggles and moments of great magic.
— From
Cynthia's Recommendations
Description
---
WINNER OF THE 2021 PULITZER PRIZE FOR FICTION
NEW YORK TIMES BESTSELLER
WASHINGTON POST, AMAZON, NPR, CBS SUNDAY MORNING, KIRKUS, CHICAGO PUBLIC LIBRARY, AND GOOD HOUSEKEEPING BEST BOOK OF 2020
Based on the extraordinary life of National Book Award-winning author Louise Erdrich's grandfather who worked as a night watchman and carried the fight against Native dispossession from rural North Dakota all the way to Washington, D.C., this powerful novel explores themes of love and death with lightness and gravity and unfolds with the elegant prose, sly humor, and depth of feeling of a master craftsman.
Thomas Wazhashk is the night watchman at the jewel bearing plant, the first factory located near the Turtle Mountain Reservation in rural North Dakota. He is also a Chippewa Council member who is trying to understand the consequences of a new "emancipation" bill on its way to the floor of the United States Congress. It is 1953 and he and the other council members know the bill isn't about freedom; Congress is fed up with Indians. The bill is a "termination" that threatens the rights of Native Americans to their land and their very identity. How can the government abandon treaties made in good faith with Native Americans "for as long as the grasses shall grow, and the rivers run"?
Since graduating high school, Pixie Paranteau has insisted that everyone call her Patrice. Unlike most of the girls on the reservation, Patrice, the class valedictorian, has no desire to wear herself down with a husband and kids. She makes jewel bearings at the plant, a job that barely pays her enough to support her mother and brother. Patrice's shameful alcoholic father returns home sporadically to terrorize his wife and children and bully her for money. But Patrice needs every penny to follow her beloved older sister, Vera, who moved to the big city of Minneapolis. Vera may have disappeared; she hasn't been in touch in months, and is rumored to have had a baby. Determined to find Vera and her child, Patrice makes a fateful trip to Minnesota that introduces her to unexpected forms of exploitation and violence, and endangers her life.
Thomas and Patrice live in this impoverished reservation community along with young Chippewa boxer Wood Mountain and his mother Juggie Blue, her niece and Patrice's best friend Valentine, and Stack Barnes, the white high school math teacher and boxing coach who is hopelessly in love with Patrice.
In the Night Watchman, Louise Erdrich creates a fictional world populated with memorable characters who are forced to grapple with the worst and best impulses of human nature. Illuminating the loves and lives, the desires and ambitions of these characters with compassion, wit, and intelligence, The Night Watchman is a majestic work of fiction from this revered cultural treasure.
About the Author
---
Louise Erdrich, a member of the Turtle Mountain Band of Chippewa, is the author of many novels as well as volumes of poetry, children's books, and a memoir of early motherhood. Her novel The Round House won the National Book Award for Fiction. Love Medicine and LaRose received the National Book Critics Circle Award for Fiction. Erdrich lives in Minnesota with her daughters and is the owner of Birchbark Books, a small independent bookstore. Her most recent book, The Night Watchman, won the Pulitzer Prize. A ghost lives in her creaky old house.
Praise For…
---
"Erdrich delivers a magisterial epic that brings her power of witness to every page…We are grateful to be allowed into this world…I walked away from the Turtle Mountain clan feeling deeply moved, missing these characters as if they were real people known to me. In this era of modern termination assailing us, the book feels like a call to arms. A call to humanity. A banquet prepared for us by hungry people." — Luis Alberto Urrea, New York Times Book Review 
"With The Night Watchman, Louise Erdrich rediscovers her genius…This tapestry of stories is a signature of Erdrich's literary craft, but she does it so beautifully that it's tempting to forget how remarkable it is…This narrator's vision is more capacious, reaching out across a whole community in tender conversation with itself. Expecting to follow the linear trajectory of a mystery, we discover in Erdrich's fiction something more organic, more humane. Like her characters, we find ourselves "laughing in that desperate high-pitched way people laugh when their hearts are broken."  — Ron Charles, Washington Post
"Louise Erdrich's The Night Watchman is a singular achievement even for this accomplished writer. . . Erdrich, like her grandfather, is a defender and raconteur of the lives of her people. Her intimate knowledge of the Native American world in collision with the white world has allowed her, over more than a dozen books, to create a brilliantly realized alternate history as rich as Faulkner's Yoknapatawpha County, Mississippi." — O, The Oprah Magazine
"In powerfully spare and elegant prose, Erdrich depicts deeply relatable characters who may be poor but are richly connected to family, community and the Earth." — Patty Rhule, USA Today
"Erdrich's newest novel thrills with luminous empathy." — Boston Globe
"No one can break your heart and fill it with light all in the same book — sometimes in the same paragraph — quite like Louise Erdrich…She does it again, and beautifully, in her new book…gorgeously written, deeply humane…Erdrich's writing about the bonds of marriage and family is one of the greatest strengths of her fiction. She captures all the affection, teasing, pain and forgiveness it takes to hold a family together." — Tampa Bay Times
"What is most beautiful about the book is how this family feeling manifests itself in the way the people of The Night Watchman see the world, their fierce attachment to each other, however close or distant, living or dead." — Minneapolis Star-Tribune
"Louise Erdrich is one of our era's most powerful literary voices…In The Night Watchman Erdrich's blend of spirituality, gallows humor, and political resistance is at play…It may be set in the 1950s, but the history it unearths and its themes of taking a stand against injustice are every bit as timely today." — Christian Science Monitor
 "Erdrich's inspired portrait of her own tribe's resilient heritage masterfully encompasses an array of characters and historical events. Erdrich remains an essential voice." — Publishers Weekly
"National Book Award winner Erdrich once again calls upon her considerable storytelling skills to elucidate the struggles of generations of Native people to retain their cultural identity and their connection to the land." — Library Journal, Starred Review
"A spellbinding, reverent, and resplendent drama…A work of distinct luminosity…Through the personalities and predicaments of her many charismatic characters, and through rapturous descriptions of winter landscapes and steaming meals, sustaining humor and spiritual visitations, Erdrich traces the indelible traumas of racism and sexual violence and celebrates the vitality and depth of Chippewa life…Erdrich at her radiant best." — Booklist (starred review)
"In this kaleidoscopic story, the efforts of Native Americans to save their lands from being taken away by the U.S. government in the early 1950s come intimately, vividly to life…A knowing, loving evocation of people trying to survive with their personalities and traditions intact." — Kirkus Reviews (starred review)
"The Night Watchman is above all a story of resilience…It is a story in which magic and harsh realities collide in a breathtaking, but ultimately satisfying way. Like those ancestors who linger in the shadows of the pages, the characters Erdrich has created will remain with the reader long after the book is closed." — New York Journal of Books
"This clever, artful and compelling novel tells an important story, one to open our hearts and minds. If you're looking for a book that is smart and discussable, tender and painful, riveting and elegant, you'll find it in THE NIGHT WATCHMAN." — BookReporter.com
"Erdrich has chosen a story that is near to her heart, and it shines through on every page…The connection between Erdrich's characters and the natural world is unbreakable, and some of her most evocative passages are dedicated to this relationship." — Philadelphia Inquirer