Search for Books
ABA Mobile Menu
The Ten Trusts: What We Must Do to Care for The Animals We Love (Paperback)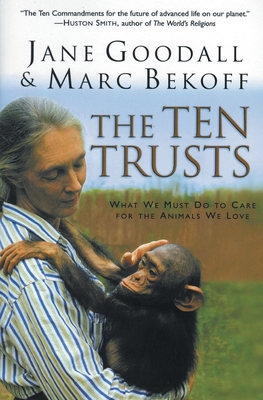 List Price: $14.99
Our Price: $6.98
(Save: $8.01 53%)
Description
---
Now in paperback–the ten things we must do to ensure a safe and peaceful world, from legendary environmentalist Jane Goodall and brilliant animal behaviorist, Marc Bekoff.
Combining her life's work living among the chimpanzees with her spiritual perspective on the relationship between humans and animals, legendary behavioral scientist Jane Goodall sets forth ten trusts that we as humans have as custodians of the planet:
1. Respect all life
2. Live as part of the Animal Kingdom
3. Educate our children to respect animals
4. Treat animals as you would like to be treated
5. Be a steward
6. Value the sounds of nature and help preserve them
7. Do not harm life in order to learn about it
8. Have the courage of your convictions
9. Act knowing that your actions make a difference
10. Act knowing that you are not alone.
Filled with inspirational stories, The Ten Trusts provides lessons Jane Goodall has learned from a lifetime of experience, with the warmth and emotion her readers have come to expect from her. Marc Bekoff, cofounder of the Roots and Shoots program with Jane, also contributes his profound insights and research, which Jane has come to rely on. Together, they share their hope and vision for humanity and all the earth's creatures, distilled into ten eloquent spiritual lessons. Within these ten trusts, Goodall reveals how we can gain true enlightenment by living in harmony with the animal kingdom and honoring the interconnection between all species.
About the Author
---
Jane Goodall is one of the world's leading conservationists. The author of many books, including the New York Times bestseller, Reason for Hope, she is renowned for her work with the chimpanzees of Gombe National Park in Tanzania, as well as for her extensive worldwide lecturing on conservation and preservation of all species.
Marc Bekoff is professor of biology at the University of Colorado, Boulder. He is the author of many books, including Minding Animals: Awareness, Emotions and Heart, and is a former Guggenheim Fellow and a Fellow of the Animal Behavior Society. Bekoff is also regional coordinator for Jane Goodall's Roots & Shoots program, which promotes environmental awareness and community involvement of young people, senior citizens, and prisoners in over seventy countries through education and hands-on activities.
Praise For…
---
"A wonderful mix of science and ethics that deserves the widest audience. Goodall and Bekoff are a marvellous team."
— Peter Singer, author of Animal Liberation and Ira. W. DeCamp professor of Bioethics, Princeton University

"A powerful paradigm for the twenty-first century. Read it and be part of the healing of our planet!"
— Allen M. Schoen, D.V.M, author of Kindred Spirits: How the Remarkable Bond Between Humans & Animals Can Change the Way We Live

"Ten commandments for the future of advanced life of our planet...these too deserve to be chiseled on stone."
— Huston Smith, author of The World's Religions and Why Religion Matters

"A powerful credo of compassion. May it stand alongside The Earth Charter as a revolutionary text for this century."
— Terry Tempest Williams, author of Leap and Red: Passion and Patience in the Desert

"The Ten Trusts weaves together science, ethics, and vivid storytelling to inspire us. A beautiful and heart-stirring book."
— Brenda Peterson, author of Build Me an Ark: A Life with Animals

"Jane Goodall, with customary good sense and wisdom, reminds us of the tenderness we owe towards all of creation."
— Bill McKibben, author of The End of Nature and Hope, Human and Wild: True Stories of Living Lightly on the Earth