John Lockley will speak about and sign his new book, Leopard Warrior: A Journey Into the African Teachings of Ancestry, Instinct, and Dreams, on Wednesday, November 1st at 7:30pm.
About the Book:
As a medic drafted into the South African military in 1990, John Lockley had a powerful dream. "Even though I am a white man of Irish and English descent, I knew in my bones that I had received my calling to become a sangoma, a traditional South African shaman," John writes. With Leopard Warrior, he brings us an inspiring call to action — showing how we can bridge the barriers that divide us, embrace the gifts of our ancestors, and reclaim our rightful place as compassionate caretakers of our world.
Vouchers to attend are $5 and are good for $5 off the author's featured book or a purchase the day of the event. Vouchers can be purchased now at the store, over the phone, or at the door. Readers Guild Members can reserve seats for any in-store event.
​​​​​​​
Event date:
Wednesday, November 1, 2017 - 7:30pm

$16.95
ISBN: 9781622039036
Availability: Backordered
Published: Sounds True - November 1st, 2017
---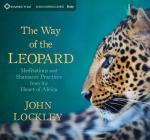 $69.95
ISBN: 9781683640349
Availability: Usually Ships in 1-5 Days
Published: Sounds True - November 1st, 2017
---