Sleeping Beauties: A Novel (CD-Audio)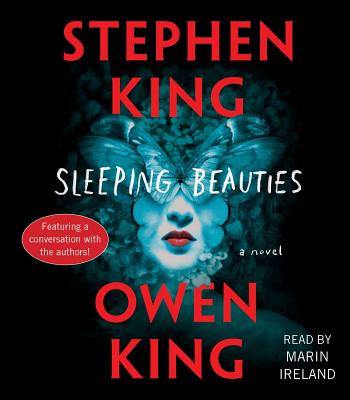 $59.99
Usually Ships in 1-5 Days
Description
---
#1 NEW YORK TIMES BESTSELLER—Featuring a conversation with the authors!

In this spectacular father/son collaboration, Stephen King and Owen King tell the highest of high-stakes stories: what might happen if women disappeared from the world of men?

In a future so real and near it might be now, something happens when women go to sleep; they become shrouded in a cocoon-like gauze. If they are awakened, if the gauze wrapping their bodies is disturbed or violated, the women become feral and spectacularly violent; and while they sleep they go to another place... The men of our world are abandoned, left to their increasingly primal devices. One woman, however, the mysterious Evie, is immune to the blessing or curse of the sleeping disease. Is Evie a medical anomaly to be studied? Or is she a demon who must be slain? Set in a small Appalachian town whose primary employer is a women's prison, Sleeping Beauties is a wildly provocative, gloriously absorbing father/son collaboration between Stephen King and Owen King.
About the Author
---
Stephen King is the author of more than fifty books, all of them worldwide bestsellers. His recent work includes The Outsider, Sleeping Beauties (cowritten with his son Owen King), the short story collection The Bazaar of Bad Dreams, the Bill Hodges trilogy End of Watch, Finders Keepers, and Mr. Mercedes (an Edgar Award winner for Best Novel and now an AT&T Audience Network original television series), Doctor Sleep, and Under the Dome. His novel 11/22/63—a Hulu original television series event—was named a top ten book of 2011 by The New York Times Book Review and won the Los Angeles Times Book Prize for Mystery/Thriller. His epic works The Dark Tower and It are the basis for major motion pictures, with It now the highest grossing horror film of all time. He is the recipient of the 2018 PEN America Literary Service Award, the 2014 National Medal of Arts, and the 2003 National Book Foundation Medal for Distinguished Contribution to American Letters. He lives in Bangor, Maine, with his wife, novelist Tabitha King.

Owen King is the author of the novel Double Feature and We're All in This Together: A Novella and Stories. He is the coauthor of Intro to Alien Invasion and the coeditor of Who Can Save Us Now? Brand-New Superheroes and Their Amazing (Short) Stories. He lives in Upstate New York with his wife, the writer Kelly Braffet, and their daughter.