The Merlin Effect (Hardcover)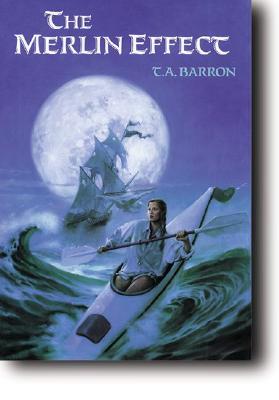 Description
---

Kate Gordon travels to a remote lagoon in Baja California, hoping to help her father discover a sunken Spanish galleon that disappeared centuries ago. In time, she learns that the ship may have carried something far more valuable than all the gold and silver aboard—a mysterious drinking horn out of Arthurian legend, which may have led to the demise of the wizard Merlin.

As she explores alone in her sea kayak, Kate encounters several pieces of the puzzle: a terrible whirlpool, a group of ever-singing whales, a seemingly ageless fish, and a prophecy that, under certain conditions, the ancient ship may rise and sail again. She plunges into an undersea world of bizarre creatures and terrifying foes. But to save the life of her father, she must find some way to regain her own free will, and to succeed where even Merlin failed.

This remarkable tale, companion to Heartlight and The Ancient One, weaves together mystery and fact, history and myth, science and faith, all in the course of a compelling adventure.
About the Author
---
T.A. Barron is the award-winning author of fantasy novels such as "The Lost Years of Merlin" epic--soon to be a major motion picture. He serves on a variety of environmental and educational boards including The Nature Conservancy and The Land and Water Fund of the Rockies, and is the founder of a national award for heroic children. Following a life-changing decision to leave a successful business career to write full-time in 1990, Barron has written seventeen books, but is happiest when on the mountain trails with his wife, Currie, and their five children.